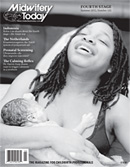 Fort Mill, South Carolina (PRWEB) September 05, 2012
Carolina Community Maternity Center, a free standing birth center located in Fort Mill, South Carolina, is currently featured on the cover of Midwifery Today magazine's summer issue. The 102nd issue for the magazine focuses on the fourth stage of childbirth and the emotional, mental, physical, and financial difficulties that go along with the transition into parenthood. Whether you see the fourth stage of birth as a time of nesting, mere hours after birth, or the couple of months to come after the baby is born, one thing is universal - this time is most often under supported for many women. This issue of Midwifery Today hones in on the worldly views of fourth stage birth as well as newborn procedures and practices.
In accordance with the fourth stage theme of the issue, CMCC has a two page photo spread with client Aidan Alexander Sandiford-Randall just moments after having a water birth. Photographer Lora Denton's chronological sequence of events in the photos captures a view from the laboring process all of the way through the postpartum bonding experience.
About Carolina Community Maternity Center
A free standing birth center conveniently located in Fort Mill, South Carolina, CMCC is just minutes away from the greater Charlotte area. Carolina Community Maternity Center provides the Midwives Model of Care to their patients who are eager to find alternative birthing solutions. While most insurance plans are accepted, affordable cash pay rates are available to those without insurance as well. Most importantly, CMCC's midwifery care is associated with excellent outcomes and happy, healthy moms and babies.