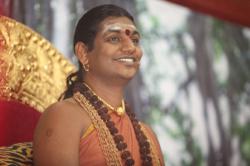 You can actually access your past from your DNA. It is where your akashic records; the record of your soul resides. Your body can do anything anybody in planet can do, because those memories are in your DNA.
Los Angeles, CA (PRWEB) September 04, 2012
Akashic Records are the mystical energy records of all the events that have ever happened, are happening and will happen in the cosmos. But the key to decode them correctly is in the hands of a very few enlightened beings. Now, Paramahamsa Nithyananda is opening up this infinite cosmic library for the benefit of Humanity. This process is known as Akashic Readings.
Paramahamsa Nithyananda says, "Even the simplest thought that crosses your mind gets recorded in the mental layer as a file and stored in the cosmic archives."In an earlier introduction to Akashic Records, Paramahamsa Nithyananda had revealed, "3000 years ago, when you were in a plant body or animal body, what you thought on a particular day with a particular movement can be retrieved without any corruption or mismanagement or alteration."
Akashic Records provide authentic answers to any question about the past, present or future, whether personal, social or spiritual. They give us clarity about the reasons behind our life's happenings, which in turn help us redesign our future intelligently. His Holiness Paramahamsa Nithyananda has conducted several successful Akashic Reading Sessions at the request of his followers worldwide, where hundreds have experienced healing of physical and emotional problems, dissolving of karmic blockages from past lives and a glimpse of the deep spiritual truths, most often just by a look or a word from this Enlightened Master.
To get answers to all your questions directly from the Cosmic source, join a FREE webinar and live Akashic Readings by Paramahamsa Nithyananda on Saturday, 8th September 2012 at 7:30 am Pacific Time.(log in via Vidyo conference or Nithyananada.tv) Personal Akashic Reading blessings can be received via 2-way video conferencing in any of the local Nithyananda Vedic Temples and Nithyananda Meditation Centers worldwide.
For Free Registration for the Event: http://www.nithyananda.org/events/akashic-readings-google-cosmic-archives-worldwide-webinar
WEBINAR TIMINGS:
SEPTEMBER 8, 2012
INDIA : 8PM – 10PM
LONDON: 3:30PM – 5:30PM
PARIS : 4:30PM – 6:30PM
NEW YORK: 10:30AM – 12:30PM
LOS ANGELES: 7:30AM – 9:30AM
MEXICO CITY, MEXICO: 9:30AM – 11:30AM
SENDING QUESTIONS:
Anyone wishing to know anything from the cosmic archives, can send in the questions for Akashic readings well in advance, to en.sharing (at) nithyananda (dot) org with subject as "Akashic Reading" with a personal photo as an attachment.
Contact :
For more Information:
Phone: 909.625.1400
Email: webinars (at) nithyananda (dot) org
Itinerary for 'Awakening the World' Tour 2012: http://worldtour.nithyananda.org/awakening-the-world-tour-itinerary-2012/
About His Holiness Paramahamsa Nithyananda:
Paramahamsa Nithyananda is a global spiritual leader in the pure Vedic science of yoga, meditation, kriyas, kundalini awakening, enlightenment & Inner Awakening, levitation, teleportation & materialization. Clear, dynamic and modern in approach, Nithyananda's teachings have already transformed 15 million followers in 150 countries with the fastest growing spiritual community around the youngest incarnation. Over 2000 hours of discourses are on http://www.youtube.com/lifeblissfoundation. Revered as a living avatar (divine incarnation) by millions worldwide, Paramahamsa Nithyananda is the most searched for spiritual teacher on the internet with more than14 million views. He is also the author of more than 300 books published in 27 languages.
His Holiness Paramahamsa Nithyananda was recently appointed as the successor and 293rd pontiff of the world's oldest most ancient and richest Hindu organization, Madurai Aadheenam. Earlier this year he was recognized as one of the world's top 100 most spiritually influential personalities of 2012 by the reputed esoteric magazine 'Mind Body Spirit' from Watkins.
In the past ten years attempts have been made to map Nithyananda's brain, his energy levels, his mitochondria, his DNA. The scientific fraternity is continuously stunned by the results of what they can evaluate.
Through cutting edge research in Yogic sciences using modern neuro psychology, medicine and quantum physics, Paramahamsa Nithyananda has offered potent Kriyas for more than 108 mental & physical disorders.
Paramahamsa Nithyananda is known for his extraordinary healing powers, curing most diseases ranging from cancers, diabetes, hypertension, depression, obesity and other psychosomatic diseases, right from the root level often with one touch or initiation.
The young enlightened Master Paramahamsa Nithyananda's meteoric rise by untiringly helping humanity to raise in consciousness, invited the ire and jealousy of few vested interests in the Indian media. He became a target of a vicious religious persecution followed by a media frenzy in the wake of the circulation of a defamatory fake scandal video, which was declared to be morphed by the four leading forensic experts and labs in US.
Paramahamsa Nithyananda remains always grateful to the spiritual masters and the rich spiritual heritage of India which made it possible for him to learn and practice these timeless spiritual truths. Dedicating his life to the service of humanity, he continues his public life to reveal to the world, the science and benefits of our ancient mystical yogic tradition and disciplines.