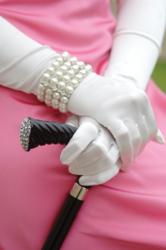 Where Fashion Meets Function
Lady Lake, FL (PRWEB) September 05, 2012
Walking-Canes.Net has just received the newest line of Ladies Walking Canes from Europe. These walking canes represent the latest in style and function. Designers have put together this product line from well known manufacturers in Italy, France, Scotland, Germany and England.
The latest fashion trends are important for ladies that use canes as a means of support. The cane she chooses makes a fashion statement with any outfit she wears by matching colors and patterns. Many of the styles come in a variety of colors, sizes and handle types. The folding canes come in petite size as well as standard size. They are a great item to have when traveling and needing to place an extra cane in your suitcase or to keep and extra one in the glove compartment of a car. Some of the airlines even allow folding canes in the cabin area.
Many ladies walking canes are made of lightweight aluminum which offers the function of adjusting them to the height by a push of the button. The standard wooden cane is still very popular with the ladies as well as the new carbon fiber material canes.
Fashion walking canes are always changing. The new styles include animal prints such as Leopard, Cheetah, Snake Skin or even a Moo Cow. Also, these styles offer the newest floral and patterned canes. Whatever the latest is in fashion there is selection to suit everyone's style and and budget.
Shop the newest and latest selection of Ladies Walking Canes and find special cane that meets your needs.
The newest European Collection of Men's Walking Canes. Every man wants a distinctive walking cane or just the basic walking cane for everyday use. These canes come with a derby handle, fritz handle or the crook handle. Color selection is available for most of them. Enjoy one of newest style designs featured.