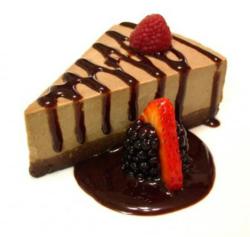 The demand for our gluten-free desserts is unbelievable!
Los Angeles, CA (PRWEB) September 13, 2012
Los Angeles based healthy dessert company Earth Cafe Living Foods announced today that demand for their signature line of gluten-free, dairy-free desserts in Florida has yielded the fastest growth rate seen for any geographic region in the company's history. "The demand for our gluten-free desserts is unbelievable," says Josh Black, CFO of Earth Cafe Living Foods. "Our desserts have been available in the eastern United States for only a few months, and Florida already ranks 4th out of 33 states where the Earth Cafe brand is sold for the number of retail locations that carry our desserts. That's amazing, since most of the western states have had years to build up their current retail presence," continued Black. "I predict that in six months Florida will be second only to California in number of retail locations that carry Earth Cafe desserts." Black also predicts that the brand will be available in all 50 states by the end of 2012.
The increased call for gluten-free desserts in Florida represents more the rule than the exception, however, as the demand for gluten-free products continues to grow steadily nationwide. According to Packaged Facts, a Rockville, MD based research firm, the gluten-free product category has seen a compound annual growth rate of 30% from 2006-2010, and is expected to exceed $5 billion in the US by 2015. That's no small figure, considering that while currently 1 in 133 Americans is estimated to have Celiac disease (about 3 million people scattered across all ages and races), 95 percent of these people are currently undiagnosed according to the National Foundation for Celiac Awareness (NFCA). "There are so many people who should be on a gluten-free diet that have simply no idea that they should be," says Black. There is no cure for celiac disease or gluten intolerance/sensitivity, and the only treatment is a lifelong gluten-free diet. However, thanks to increased awareness, the NFCA estimates that the diagnosis rate may reach 50 to 60 percent by 2019. "Regardless how one looks at the data," says Black, "the one word that best describes the gluten-free movement over the next several years will be GROWTH."
Earth Cafe Living Foods has been making mouth watering gourmet desserts in the Los Angeles area since 2004. From rave reviews by renowned product reviewer Phil Lempert (The Supermarket Guru), to being featured on the Cooking Channel, to winning the coveted "Foodie Award" from Vegetarian Times Magazine, one thing is clear - eating healthy never tasted so good! Earth Cafe brand raw, vegan, gluten-free cheesecakes are retailed by hundreds of discerning health food stores across the country and are available online through their website.