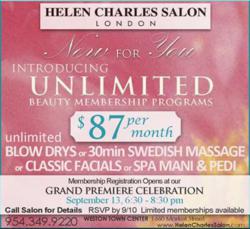 Weston, Florida (PRWEB) September 05, 2012
Helen Charles Salon, voted the #1 hair salon in Weston, Florida, has today announced their new Unlimited Beauty Program. This new concept offers four distinct packages, all of which provide members with amazing benefits and the ability to take advantage of the salon's services at any time they like.
Helen Charles Salon will be offering four Unlimited packages, including the Unlimited Spa Manicures & Pedicures, Unlimited Classic Facials, Unlimited 30 Minutes Swedish Massages and Unlimited Blow Drys packages.
Helen Charles, the founder and owner of the salon, has earned international acclaim for her innovation and focuses on providing the highest quality services possible for all clients. Trained at Vidal Sassoon, Helen has plenty of experience in the industry, having owned a chain of hair salons in London and being consistently linked with industry leaders including Goldwell, Wella, L'Oreal and Vidal Sassoon. Helen also prides herself on choosing only the very best salon professionals and training them to provide the highest level of service possible for every client.
The Unlimited Spa Manicures & Pedicures package offers members the chance to have their nails gently bathed, shaped and massaged with the salon's signature moisture lock intensive cream, rich in vitamins A, B, E and hyaluronic acid. Members' nails are then finished with their choice of polish.
The Unlimited Classic Facials package offers members the chance to enjoy the perfect facial for relaxation and pampering. All facials begin with an in-depth skin analysis by a licensed esthetician, and include aromatherapy, cleansing, exfoliation, a mask and a head and shoulder massage.
The Unlimited 30 Minutes Swedish Massages package gives members the opportunity to indulge in a classic Swedish massage. This type of massage offers relief from daily aches and pains while restoring whole body wellness. It's designed to re-energize the entire body by stimulating circulation and calming the nervous system through specialized relaxation techniques. Swedish massage can also offer relief from the symptoms of sciatica, carpal tunnel syndrome, fibromyalgia and other chronic muscular conditions.
The Unlimited Blow Drys package is the perfect way to ensure healthy hair. The salon chooses the most suitable shampoo for the client's hair texture, and gently dries the hair slightly. A professional stylist will then blow dry the hair and achieve the perfect finish utilizing the ideal products to keep the client's hair healthy and vibrant. Members will be able to choose from a full blow dry menu, including classic blow drying, relaxed options, high fashion blow drying, fun and flirty options, and more, ensuring members can have the stunning look they want.
The number of packages offered is limited to a select few clients only. All members will have unlimited services and visits for a single monthly fee of just $87.00 per package. Customers are also able to purchase all or any combination of packages that fits their needs.
To find out more about these luxurious packages and to experience the Helen Charles difference, visit http://www.helencharlessalon.com
About Helen Charles Salon:
Helen Charles Salon holds to their mission to provide the highest quality and most cost-effective service in the hair and beauty industry. They remain committed to satisfying each client during every visit, as well as in continuing education for all professionals within the salon. Combining innovation with science and the highest quality products, Helen Charles Salon provides an amazing experience.
Contact:
Helen Charles
Helen Charles Salon
Weston Town Center
1660 Market Street
Weston, Florida 33326
Phone: (954) 349-9220
Web Address: http://www.helencharlessalon.com
Email: info(at)helencharlessalon(dot)com