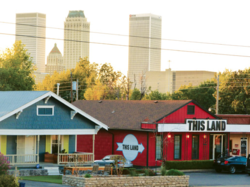 The best for-profit journalism start-up in the country.
Tulsa, OK (PRWEB) September 05, 2012
Although barely two years old, This Land Press has garnered significant acclaim and attention for its high-integrity journalism across multimedia platforms. The small media company, with only 21 full-time employees, manages to produce a semi-monthly magazine, a weekly TV show, radio programs, and a host of digital offerings.
While its reporting has been cited by national and international press, few people know about its inner workings. Until now.
In its September 2012 issue, Columbia Journalism Review features a detailed report about the business side of This Land Press, calling it "perhaps the best for-profit journalism start-up in the country." This Land Press primarily features in-depth journalism about life and culture in the middle of America.
The article, "Made for you and me," written by CJR staff writer Michael Meyer, details the history of This Land Press and its stellar rise in the Oklahoma media community. The report explains how This Land's focus on narrative journalism has helped "change news from a disposable commodity to something of enduring interest to its audience."
"We're creating something that we know in and of itself is good," This Land Press's publisher Vincent LoVoi told CJR. "The market follows the quality as opposed to the quality following the market."
While other community publications around the country have been struggling to maintain their revenues by cutting production, This Land Press has employed a different tactic, the article suggests.
"By functioning as a for-profit but producing nothing but the kind of inefficient literary and investigative work associated with nonprofits, This Land has created a niche that could allow local news organizations to create a sustainable base of local advertisers—and offer a possible solution to a key problem facing journalism," Meyer writes.
CJR's report on This Land Press constitutes the first time an Oklahoma media company has ever received such positive praise and attention from the prestigious journal. Other media outlets such as TIME, Monocle, The Daily Beast, and National Public Radio have cited This Land for its depth and breadth of community reporting.
In the current issue of This Land, acclaimed science writer Ginger Strand tackles the complexities of Oklahoma's water issue in a 3-part series called "Troubled Waters." This week's online readers of ThisLandPress.com will be treated to never-before-published photos of a young Mickey Mantle eating at a Tulsa diner. The mix of serious reporting and community-minded stories is just part of the reason Columbia Journalism Review highlights This Land Press in its Future of Media issue.
Read the entire article "Made for your and me" at the Columbia Journalism Review website (link).
Learn more about This Land Press at ThisLandPress.com and explore its work in print, video, and audio.
Follow This Land Press at Facebook or on Twitter.