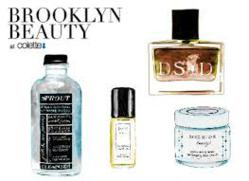 "By being able to talk to and interact with the brands on powhow.com, we are allowing the consumer to truly understand and feel the passion of these Brooklyn based organic producers." - Sarah (Owner of colette)
New York, NY (PRWEB) September 04, 2012
Paris fashion and lifestyle mecca, colette launches Brooklyn based natural and organic skincare brands on powhow.com with a series of live online workshops, coinciding with New York Fashion Week and the in-store event "Brooklyn Beauty at colette."
Using Powhow's live webcam classes platform, VIP guests from all over the world will interact live with the founders of Sprout, Phoenix Botanicals, Between You and the Moon, and Soapwalla. These are four of the ten brands being carried at Colette during the "Brooklyn Beauty" event. (Visit eShop)
The live webcam workshops will include a demonstration on how to make your own products and Q&A session on how to care for your skin naturally by each creator of these natural and organic skincare brands.
The live Powhow workshops realize the vision of Fashion and Beauty Editor Carole Sabas (French Vogue and Fashion Insiders Guides) and colette's owner Sarah to offer consumers the Brooklyn Beauty Homemade experience from their living room anywhere around the world.
Carole Sabas: "While investigating for my "Brooklyn For Fashion Insiders Guide", I was blown away by these amazing people I found from Red Hook to Greenpoint. They prepared their own products with such love and professionalism. Not only were the products mind-blowing but the packaging was amazingly up to date and chic. I could only share this hidden treasure with Sarah at colette. I am so excited with her decision to start carrying and promoting them in her fabulous Beauty Box. Encouraging boldness and creativity has always been Sarah's focus and passion and that is why we are partnering with powhow.com."
Sarah: "I am glad of this opportunity to bring to Paris and to people all over the world my love for Brooklyn and these brands that embody the spirit of wholesome homemade products. By being able to talk to and interact with the brands on powhow.com, we are allowing the consumer to truly understand and feel the passion of these Brooklyn based organic producers."
The live workshops extend the vision of Powhow co-founder and CEO Viva Chu to create the first global marketplace for live webcam classes. Viva Chu adds: "As we have been building out our marketplace of live classes, we've found that major consumer brands like colette share our vision to bring the best experiences and experts around the world right to your living room. Through our platform, we are enabling colette to transform consumer retail into a live online experience that extends beyond what they are able to offer in both their physical and online stores. For the first time ever, all you need is a webcam, wifi, and Powhow to experience colette, the coolest store in Paris, and Brooklyn, a hotbed of emerging beauty brands."
Brooklyn Beauty Event Schedule
Monday, September 10, 2012
12:00 pm to 1:00 pm EDT
Detoxifying For Healthier Skin
with Sprout Skincare Founder Adina Grigore
Learn how healthy eating leads to healthier skin. We'll discuss ways to create your own seasonal detox, how to know if your diet and your skincare products are working for you, and how to use simple ingredients you probably already have at home—in your cooking and your skincare.
Tuesday, September 11, 2012
12:00 pm – 1:00 pm EDT
Making your Own Whole Plant Extracts
with Phoenix Botanical Founder Irina Adam
Irina's demonstration will have you on your way to natural herbal skincare.
Wednesday, September 12, 2012
12:00 pm – 1:00 pm EDT
Face Mapping Using Chakras
with Between You and the Moon Founder Emma Graves
Learn to map your face guided by your chakras and determine the best course of action for your unique skin type. Understand your skin from the inside out.
Thursday, September 13, 2012
12:00 pm – 1:00 pm EDT
Making Your Own Lip Balm
with Between You and the Moon Founder Emma Graves
Learn to make your own lip balm using natural ingredients and learn about the benefits of natural ingredients.
Friday, September 14, 2012 –
12:00 pm – 1:00 pm EDT
Taking Care of Your Face Naturally
with Soapwalla Founder Rachel Winard
Learn how to properly take care of your skin, and what ingredients you can find in your kitchen to create healthy and effective products. Make a simple facial cleanser, toner and mask. No prior experience necessary.
Members of the general public and press are invited to join these groundbreaking events at http://www.powhow.com/colette/brooklyn-beauty. Press invitations are limited, so please RSVP before September 7th to colette(at)powhow(dot)com.