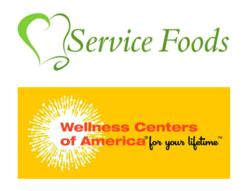 I am very excited to be partnering with such a wonderful establishment to provide great food and outstanding health and wellness programs to help clients prevent and mitigate disease.
--Dr. Keith Kantor
Atlanta, GA (PRWEB) September 04, 2012
Service Foods, a leading provider of all-natural, high-quality organic food for home delivery, is pleased to announce that it has entered into a strategic partnership with Wellness Centers of America in order to provide clients in the Metro Atlanta area with comprehensive wellness and preventative care programs targeted at total health and well-being.
As part of their collaboration, patients will have access to the Wellness Centers of Americas' nutritional and weight loss assessments alongside expert coaching on proper nutrition and dietary supplementation from the Service Foods team, including registered dietitians, registered nutritional nurses and CEO Dr. Keith Kantor, who holds a Ph.D. in nutritional science and Sc.D. in naturopathic medicine. Clients will then be provided with customized menu plans containing the optimal all-natural foods for their particular health concerns, such as diabetes or high cholesterol.
Along with the thorough assessments and coaching, patients at Wellness Centers of America have convenient, affordable access to weight counseling, massage therapy, fitness training and chiropractic care from the center's certified and experienced wellness coaches and wellness doctors. The center also provides additional services, such as yoga, hyperbaric oxygen therapy and purification programs, for optimal health. Furthermore, Dr. Kantor will practice at the Wellness Centers of America to address patients' naturopathic medical needs in conjunction with treatment from the center's physicians.
"Having earned my doctorates in nutritional science and naturopathic medicine, and having treated and served so many patients and clients, I know healthful eating is key to alleviating pain, preventing chronic illness, and providing for longer, happier and more productive lives," says Dr. Kantor. "I spent a great deal of time searching for a practice that shared this approach and finally found a match at Wellness Centers of America; however, the center was just missing the all-natural food component to make it a totally complete program. I am very excited to be partnering with such a wonderful establishment to provide great food and outstanding health and wellness programs to help clients prevent and mitigate disease."
About Wellness Centers of America
Wellness Centers of America brings state-of-the-art, multi-disciplined wellness and preventative care programs to clients, all under one roof. The center was conceived as an affordable, convenient solution by strengthening the Five Pillars of Wellness: Chiropractic, Massage, Nutrition and Weight Loss, Personal Training, and Vitamins and Supplements. The Wellness Centers of America is staffed by certified and experienced wellness coaches and wellness doctors who take an all-encompassing approach to helping clients get positively healthy. For more information, visit wellnessforyourlifetime.com.
About Service Foods
Service Foods offers a full line of all-natural foods free from growth hormones, preservatives, steroids, antibiotics and colorings. The company provides free delivery directly to customers' homes. In addition, dietitians, nurses, doctors, dentists and fitness experts are on staff to counsel clients in leading a healthier lifestyle. Service Foods has been in business since 1981 and is based in Atlanta, Georgia, with warehouses in several states. To learn more about Service Foods, Inc., visit ServiceFoods.com.