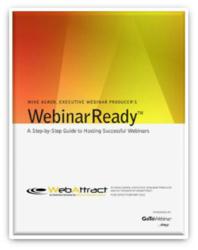 WebAttract was a find for Murphy Leadership...I would say that when we look back, we will consider working with WebAttract the turning point for Murphy Leadership.
Sacramento, CA (PRWEB) September 04, 2012
WebAttract, the webinar demand creation company, announced that it has released its long-awaited eBook, WebinarReady™: A Step-by-Step Guide to Hosting Successful Webinars, which was funded in part by Citrix. Citrix offers the award winning GoToWebinar® software solution. The complimentary eBook features the industry's first comprehensive guide to webinar production, audience recruitment, metrics, and lead generation. The eBook was written for marketing professionals responsible for lead generation or content marketing who are seeking webinar best practices and fresh ideas.
WebinarReady™ was co-authored by webinar thought leader Mike Agron. Agron, the Executive Webinar Producer and Co-Founder of WebAttract, is regarded as the top webinar production expert for companies looking to grow their sales via webinars. Agron has produced and moderated informational webinars for global industry brands such as Google, IBM, Intel, Citrix, Microsoft, Oracle, Dex One, and Underwriters Laboratories as well as many emerging business-to-business (B2B) and growing firms. Agron will be leading a workshop entitled "Webinar Demand Creation for Content Marketers" at Content Marketing World, which kicks off today in Columbus, OH. (http://contentmarketingworld.com/)
To download a copy of the complimentary eBook, click here.
"This eBook presents a unique value proposition: the marriage of a step-by-step GoToWebinar guide with strategic consulting advice based on WebAttract's proven methodology, best practices, metrics and a deadline-driven project management approach," said Agron. "These best practices have been identified by producing, executing, and analyzing cost-effective and lead generating webinars for hundreds of companies across industries."
Pre-release copies of the eBook have been exceedingly well received to date. Some comments about the book and the WebinarReady program include:
"Because of working with WebAttract, immediately following our webinar, we were able to establish a conversation with a fresh new prospect looking for our capabilities that resulted in closing a $1 million deal with a major big box retailer," Harry J. Friedman, CEO & Founder, The Friedman Group.
"WebAttract was a find for Murphy Leadership. They coached, trained, and partnered with us to implement Murphy Leadership's first successful webinar. In fact, I would say that when we look back, we will consider working with WebAttract the turning point for Murphy Leadership," said Niles Kin, President and COO, Murphy Leadership.
WebinarReady Program
The eBook details how WebAttract's WebinarReady process helps marketers responsible for lead generation or content marketing harvest more qualified sales leads with predictable outcomes through best practice webinars. The WebinarReady program, described in detail in the eBook, features:

Strategic consulting advice using deadline-driven project and technical management leading to High Performing – High Impact Webinars™.
Setting the stage for a smooth production
Getting the right audience, and more of them to register
Breathing life into your webinar production
Using metrics and analytics to optimize performance and outcomes
Inspiring the audience to want to have a conversation with you after the webinar
Optimizing webinar technology and audio to engage the audience
Follow up on segmenting sales ready leads from those that need more sustained nurturing
"Our team of experienced B2B webinar experts is passionate about delivering positive and reliable outcomes to our clients and partners, from leading global brands to emerging organizations," said Agron. "Part of our success is our expertise in getting the most from the GoToWebinar platform to help our clients capture fresh prospects, captivate their audience, and increase interaction and participation, so they can convert more webinar prospects into customers."
One customer, Andre Ellman, Director Business Development at Mercer International, discusses why his company has worked extensively with WebAttract to help them produce effective webinars that led to a very large sale that paid for the webinar many times over. Watch the video here.
About WebAttract
WebAttract is a professional services organization of B2B webinar experts enabling clients to convert more prospects into customers. Through our WebinarReady methodology, we help sales and marketing professionals at both global and emerging brands excel at using webinars for demand creation. Our "white gloves" services covers the entire webinar life cycle value chain, from strategic consulting, audience acquisition, content development, full project and technical management, etc. For more information, go to [http://www.webattract.com.