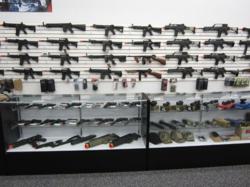 Oakdale, MN (PRWEB) September 04, 2012
Airsoft Station will be hosting the grand opening of their retail store on Saturday, September 8th, 2012. The event will feature special deals, a prize drawing, contests and special guests from Lancer Tactical.
The contests will include a target shooting course where contestants can race to see who can take down all the targets first. The winner will receive a small prize and move on to the next round of the event. The winner of the whole event will receive a larger prize which will be announced at the event. There will also be a prize drawing , sponsored by Airsoft Station, in which the winner will receive a high end airsoft rifle. Food and refreshments will also be offered at the event.
Airsoft Station specializes in high quality airsoft products and tactical gear. They have been operating online through their website since 2008 and have been growing steadily since the site was launched. They sell a large selection of airsoft guns, tactical gear, and airsoft accessories. The brands offered include G&G, CYMA, JG, ICS, Lancer Tactical, AGM, A&K, Cybergun, Dboys, Elite Force, H&K, King Arms, KWA, and TSD Tactical.
The grand opening of their new retail storefront will be held on September 8th, 2012. Doors open at 12:00 PM Central Time. The store is located at 1330 Helmo Ave N, Oakdale, MN 55128.