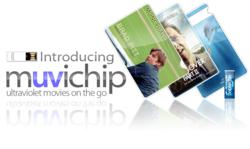 Chico, CA (PRWEB) September 04, 2012
FlixChip announced today that it has launched a fundraising campaign to complete final funding stages for licensing movie content and placing a production order so they can put the muvichip™ the muvifi™ and muvifi+™ into the hands of movie fans worldwide by the end of the year.
FlixChip is responding to how a once simple experience has morphed into a time consuming, convoluted mess of codecs, media formats and streaming rights. With their muvichip — a small USB drive that plugs and plays with any usb connected device — and the muvifi/muvifi+ — a portable system for streaming muvichips to any smartphone, tablet or TV, FlixChip aims to bring back simple. No downloads, buffer times or Internet connections are needed. With a single muvifi+ portable streaming device, 5 people can watch 5 different muvichips simultaneously with up to 6 hours of playback time.
If you want to be one of the first to receive a muvichip, check out the rewards offered on their fundraising site here, or follow them on Facebook for updates.
About FlixChip
FlixChip Corp. has created the first global, solid-state, movie distribution media designed for consumers to effortlessly use anytime, anywhere, on any device such as computers, mobile phones, tablets, televisions, etc. This proprietary disruptive technology innovation, called "muvichip™," has patented magnetic properties that make it a satisfying snap to use and organize without DVD/Blu-ray drives or disc storage boxes. The high quality movie graphics on the front and back of every muvichip™ carrier create a consumer collectible genre as well.
The muvichip™ is similar in some respects to physical media products such as DVD/Blu-ray, and provides streaming and digital downloads using the industry's UltraViolet™ (UV) movie distribution and digital rights management schema. However, since USB access is so ubiquitous on computers, televisions, DVD/Blu-ray players, handheld devices and tablets, only FlixChip's muvichip™ delivers a fully portable experience without the limitations of optical media players or portable devices that require Internet access. Consumers become fully untethered, and no longer have to be frustrated with lack of Internet access or equipment.