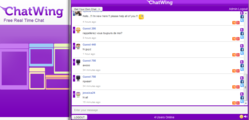 Milwaukee, WI (PRWEB) September 05, 2012
Twitter is one of the most efficient social networking sites when it comes to information delivery, based on its high user base and daily activity. Many professionals even believe that trends usually come and go with the help of Twitter. Operating on this premise, the Chatwing Development Team has introduced a simple yet effective chat box for trend observers in Twitter. The Chatwing chat app can be installed to any blog and website, and also empowers global blog interaction.
Chatwing's free chat box can be installed in under a minute. First, the user must register his blog's domain name and email address. After that, he can now proceed to the widget customization process; here, the user can set the color, title, and size of the widget. Once everything is complete, the user can now retrieve the HTML code and embed it to his blog or website. Twitter users can use the Chatwing chatbox to share their comments about upcoming trends. Apart from that, they can also invite new followers and expand their social network. The Chatwing chat app can also allow up to 1000 visitors simultaneously.
Chatwing has also observed that micro-bloggers in Twitter have tendencies to become trend observers. One great example is the boom of Instagram; with this application, many people were able to take snapshots and beautify them. Instagram photos were shared in different social networking sites, creating leisure and controversy altogether. The Chatwing team has estimated that more trends will come before 2012 ends. To prepare for this, the team is planning to release more upgrades that can make the free shout box more reliable and effective.
Many people believe that Twitter will continue to grow, despite the competition posed by other social networking giants. The Chatwing team, on the other hand, is always willing to help people gain new communication experience. This passion has started ever since the inception of the Chatwing shoutbox. The developers will continue their hard work to ensure that the Chatwing platform will be remembered for the years to come.
About Chatwing.com
Chatwing.com specializes in the new field of website chat. Over years, the Chatwing team has introduced live chat widget for hundreds and thousands of blogs. The Chatwing application bridges people from many parts of the world, creating global synergy through the Internet. The shout box can be installed in just seconds, and it can be used for varying purposes such as leisure and Internet marketing. It also allows a user to customize the size, color, and name of the widget. Chatwing is 100% free for everyone.