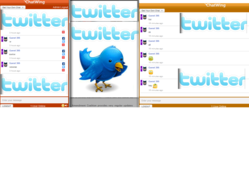 Omaha, NE (PRWEB) September 06, 2012
Finance has been one of the major facets of Internet growth today. This is based on the numbers of websites being created for the sole purpose of finance. Aside from that, Twitter tweets about finance are now becoming too common. The Chatwing Development Team has cleverly noted these facts and used them as templates for a new chat box. This chat app has recently been introduced in the Twitter community, as well as other famous blogging sites like Wordpress and Livejournal. The Chatwing app is known for its simplicity and quick installation process.
Common tweets about finance usually discuss the ways on how to become financially free. These tweets are then shared in other online sectors. Most of these tweets come from mentoring companies, and other entrepreneurs who want to make impressions. Chatwing's free chat box can provide a 'bridge' of communication for these finance trend followers. These followers can communicate through blogs and websites with Chatwing installed. In the latest version of the Chatwing chatbox, users can send shortlinks for private group chats. In this way, people can chat effectively and easily.
About a year ago, Chatwing's free shout box has gathered minimal online presence. To cope with this, Chatwing developers went back to the drawing board to redesign the chat application. After several discussions, the dev team were able to introduce certain upgrades that have attracted many bloggers and web surfers from various communities. Because of the demand and influx, the Chatwing team has increased the user capacity to 1000.
Chatwing has taken its middle steps towards in the Twitter arena. There are many niches to cover in Twitter, and the developers have created a strategic plan to introduce the Chatwing app with calculated ease. To keep the Chatwing platform intact, the dev team will implement maintenance schedules in many platforms. This dedication will help people improve their online communication potentials to a certain degree.
About Chatwing.com
Chatwing.com specializes in the new field of website chat. Over years, the Chatwing team has introduced live chat widget for hundreds and thousands of blogs. The Chatwing application bridges people from many parts of the world, creating global synergy through the Internet. The shout box can be installed in just seconds, and it can be used for varying purposes such as leisure and Internet marketing. It also allows a user to customize the size, color, and name of the widget. Chatwing is 100% free for everyone.