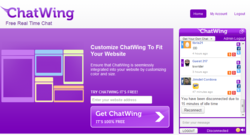 Houston, TX (PRWEB) September 06, 2012
Many professionals believe that blogging in Wordpress is fun and more profitable compared to other blogging sites. This is because of the fact that Wordpress offers high functionality and blog customization. Bloggers can use a chat widget that functions well within the Wordpress community. This chat application comes from a company known as Chatwing. The Chatwing app offers a new form of blog interaction, and can also increase a blog's visibility twofold. Installation of the Chatwing shoutbox also takes only a small amount of time, and there are no complicated commands needed.
Chatwing has already covered many niches from other blogging communities. All of these niches have respective numbers of active bloggers, contributing to their popularity. Chatwing's pitch has always been the same: better website communication. Despite that, the business message still remains strong and highly needed in the blogosphere. The recent version of the Chatwing chatbox has the capability to handle up to 1000 users in real-time. This simply means that communication potential in a Chatwing chatroom is high. The free shoutbox also allows social media integration—users can log in with their social media accounts and send out invitations to each other.
The previous versions of Chatwing chat app were less competitive, but still formidable. Those versions also became the templates of the recent version, and Chatwing developers were able to see glitches and introduce new developments. Today, Chatwing's free chat box runs smoothly and is highly compatible to any blog and website. Users can even select from three form factors: actual shoutbox style, pop-up window, or direct link URL.
To keep their user base satisfied, Chatwing's developers will continue to do more objective research and strategic planning. Aside from that, maintenance schedules will be conducted to ensure that the Chatwing platform will remain as stable as ever. Special online events are now being planned in Chatwing business discussions to entice more users and spread the 'need' for better website communication.
About Chatwing.com
Chatwing.com specializes in the new field of website chat. Over years, the Chatwing team has introduced live chat box for hundreds and thousands of blogs. The Chatwing application bridges people from many parts of the world, creating global synergy through the Internet. The shout box can be installed in just seconds, and it can be used for varying purposes such as leisure and Internet marketing. It also allows a user to customize the size, color, and name of the widget. Chatwing is 100% free for everyone.