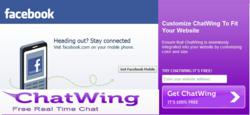 Portland, OR (PRWEB) September 07, 2012
Facebook's growing number of users proves that everyone is getting online and it's a new way of communicating and connecting. Facebook and Twitter are the leading social networking sites that have attracted web surfers and have spawned online communities of different interests. Because of this trend, web applications are being constantly created to address the needs of online users for interactive communication. Chatwing development team is one of the few trusted chat application developers that never stops innovating their chat widget.
Chatwing team is committed to help Facebook users with a reliable chatbox that can satisfy their needs for real time interaction, social network expansion and boosting site traffic. A simple free chat widget can accomplish all these with just a few clicks. Chatwing's chat tool has a simple and easy to do installation process that allows user to experience communication advantages in no time. With four steps, a user can embed the chat tool in his site and can start chatting to a hundred online users through Chatwing's regular chatbox, or communicate with chosen contacts through the direct URL link option.
Meeting and adding new friends in Facebook will be effortless with the help of Chatwing's social media integration feature; web surfers can now log in with their Facebook and Twitter accounts. The opportunity to meet new contacts and create worthwhile relationships or groups is highly achievable with the Chatwing app. Starting groups and relationships need reinforcement and constant validation through communication.
Online marketers, professionals, and niche bloggers will benefit from using Chatwing's new and advanced chat widget since it is designed for interactive and real time communication highly needed in the information age. The Chatwing team is also planning for more developments in the coming weeks and months.
About Chatwing.com
Chatwing.com specializes in the new field of website chat. Over years, the Chatwing team has introduced live chat box for hundreds and thousands of blogs. The Chatwing application bridges people from many parts of the world, creating global synergy through the Internet. The shout box can be installed in just seconds, and it can be used for varying purposes such as leisure and Internet marketing. It also allows a user to customize the size, color, and name of the widget. Chatwing is 100% free for everyone.