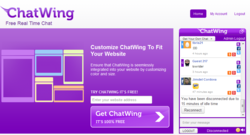 Cambridge, MA (PRWEB) September 07, 2012
Many people are now striving to have a better health, based on the different global searches about alternative medicine, treatments, and organic diet. The field of health is now considered as a strong niche, especially in the premise of blogging. Chatwing, a company specializing in making chat apps, has observed that there are thousands of health bloggers currently active in the Wordpress community. To help these bloggers relay information, the Chatwing team has launched a website chat box filled with simple but useful features.
One of the Chatwing app's most useful features is social media integration. With this feature, users and visitors can log in with their social media accounts. Afterwards, these people can now send out friend invitations to each other. This simply makes Chatwing's free chat box a highly reliable tool when it comes to social connection. Health bloggers can utilize this option to find communities to join, and they can also gather worldwide tips.
Chatwing's latest free shout box also offers a direct link URL option. With this new feature, Chatwing users can create their unique shortlinks and send them to their friends and colleagues. This emphasizes the strength of private group chats. The current Chatwing chatbox can also invite up to 1000 users in real time; basically, many users can participate in any Chatwing discussions, and this can totally raise the visibility of the blog in the long run.
The Chatwing team believes that proper information relay can only be achieved through reliable communication. Information is highly important in health blogging. Through efficient web communication, many people will be able to 'bend' their diets to the right path, and they can even find natural cures to different maladies. Chatwing is always ready to support by keeping a troupe of developers that will work round the clock when it comes to the development of the chat app. In this way, many bloggers can reach people within a short span of time.
About Chatwing.com
Chatwing.com specializes in the new field of website chat. Over years, the Chatwing team has introduced live chat widget for hundreds and thousands of blogs. The Chatwing application bridges people from many parts of the world, creating global synergy through the Internet. The shout box can be installed in just seconds, and it can be used for varying purposes such as leisure and Internet marketing. It also allows a user to customize the size, color, and name of the widget. Chatwing is 100% free for everyone.