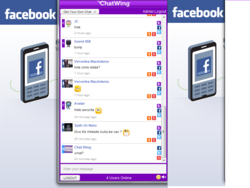 Portland, OR (PRWEB) September 07, 2012
Businesses in Facebook thrive because of global connectivity and speed of information relay. However, many online entrepreneurs are still having a hard time reaching their target markets. To provide a quick solution to this dilemma, the Chatwing Development Team has introduced a global chat box that has useful communication features, such as social media integration, website chat opportunity, and direct link URL. Additionally, the Chatwing shoutbox can also be installed to any blog or website. The application's installation process is also strategically designed so that it will only take few seconds to accomplish.
There are many tricks that can be done to successfully market a Facebook business page, according to many online marketing professionals. Chatwing's free chat box can aid any Facebook page marketing campaign. In a Chatwing shoutbox, up to a thousand users and visitors can chat in real time. This is a clear opportunity to any Facebook marketer. In few clicks, the Facebook marketer can now expand his market reach and his social network, as well. Chatwing also offers a direct link URL; this option allows the Chatwing user to send out shortlinks, enticing people for private group chats. This makes the Chatwing chatbox mobile-friendly and highly accessible.
About two months ago, Chatwing's free shout box has been introduced in blogging communities to help niche bloggers reach many people. The Chatwing app received many positive reviews, yet the developers have decided to create more upgrades and developments. This move has solidified Chatwing's position in the blogosphere. After the introduction of such upgrades, the influx of users has doubled, and Chatwing's developers have always maintained the chat platform. Moreover, Facebook fan page creators can also add the Chatwing app to their pages—this can be done with the help of a third-party application called Lujure.
To keep the free chatbox highly reliable and functional, the Chatwing team will continue their research and observation. This will help the developers in finding out the best upgrades that can benefit thousands of users.
About Chatwing.com
Chatwing.com specializes in the new field of website chat. Over years, the Chatwing team has introduced live chat widget for hundreds and thousands of blogs. The Chatwing application bridges people from many parts of the world, creating global synergy through the Internet. The shout box can be installed in just seconds, and it can be used for varying purposes such as leisure and Internet marketing. It also allows a user to customize the size, color, and name of the widget. Chatwing is 100% free for everyone.