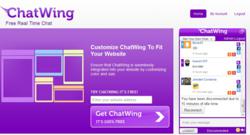 Denver, CO (PRWEB) September 07, 2012
Traveling is one of today's growing trends. The benefits of being able to travel include exposure to different cultures, experiencing new things such as delicacies, way of life and meeting new friends. A community of bloggers with travel stories, experiences and tips are establishing a community in Typepad that, in turn, informs readers of the happening in the other side of the world. With Chatwing's launch of its free chat box, Typepad bloggers and readers now have a reliable chat platform to interact among one another real time.
Do's and don'ts, conversational tips, and experiences are best discussed in real time and without interruptions. To fully experience the benefit of an interactive chatting activity, a free chat widget can make a difference. Chatwing's newly-released website chatbox may look simple but its features and capabilities are on a professional level. This chat application can be installed easily in just a few seconds and can handle a thousand users efficiently. It is also flexible enough to allow group chats or selective chats by using the direct URL link option.
Chatwing's improved free shoutbox gives the user full control over the chat tool's customization. A user can change the widget's color, size, font style, and title as he pleases. There are available avatars for users and cool emoticons for expressing emotions during chats. The chat widget is also effective for expanding one's social networks through its social media integration capability. For Typepad travel bloggers aiming to improve their online presence, engaging their readers will help them create a mark in the blogosphere. Blog visitors can log in with their social media accounts, anytime.
Moderator feature, the latest addition to the chat app's lists of useful features, allows blog communities to manage their group by setting up numerous chat boxes and assigning moderators to monitor and facilitate chats. Chatwing's newest chat box can also benefit online marketers and other niche bloggers. Chatwing dev team is focused on providing online users with a reliable and efficient chat tool for global connectivity.
About Chatwing.com
Chatwing.com has developed live chatbox for websites and blogs. It caters to different online communities due to its high rate of connectivity. Everyone can create a customizable live chat box feature in 1 minute or less. Users have the ability to customize the size, color, and fonts of the chat product. The ability to chat live via social media accounts such as Facebook and Twitter enable Chatwing to offer a personal and unique real-time experience to all sites. Chatwing is 100% free and very easy to use.