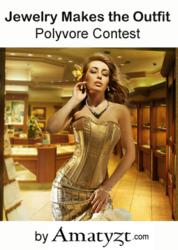 We created this contest because the collective talent on Polyvore is impressive. We are excited to see how they would wear our jewelry!
Houston, TX (PRWEB) September 06, 2012
The right accessories can completely transform the visual of an outfit, for better or for worse. With a wide array of one of a kind and limited edition designer, jewelry, the people behind Amatyzt have seen how jewelry can completely transform a look. This is why Amatyzt has chosen the innovative fashion platform, Polyvore for their new contest. "The Polyvore community is awash with ideas and inspiration," explains Amatyzt president, Alexa Ronngren, "The people on the site have a knack for putting together looks that are both original and appealing. As a company who prides itself in original design and unique jewelry, Amatyzt could not ask for a better contest platform!"
Today, the company is calling for entries to the Jewelry Makes the Outfit Contest_title_ With unparalleled fashion creativity, the online jewelry store choose the Everyone on Polyvore group to host the contest. Each entry must contain at least five products from the site and the company logo. The contest lasts two weeks and will crown six winners. The grand prize winner will get a $200 gift certificate to Amatyzt.com. Second prize is a $50 gift certificate. All other winners receive $25 to spend on the site.
Anyone can help Amatyzt crown a winner by voting for their favorite sets in the contest. The jewelry contained on the sets are available for purchase at Amatyzt.com. But be aware that all of the jewelry on Amatyzt is either one of a kind or part of a very limited edition collection, which usually maxes out 15 pieces per designs. So it is quite possible that a piece featured in a fashion set entered into the Jewelry Makes the Outfit contest can sell out quickly.