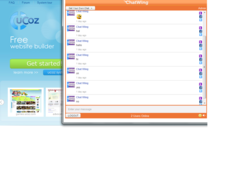 Miami, FL (PRWEB) September 08, 2012
Chatwing Development Team, a company that excels in creating chat apps, has recently launched a new chat box that can help Ucoz bloggers build a strong subscriber base. The Chatwing chat app has been introduced in several blogging communities, but it is now revamped with new features such as social media integration, high customization rate, and direct link option. The Chatwing app can also be used for different purposes such as blog marketing, product assessment, friend search, and social media expansion.
Chatwing's free chat box became known in the blogosphere because of its simplicity. Chatwing developers have made the app simple because people tend to shun away applications that have complicated commands. Using the Chatwing chatbox can also be accomplished in just simple steps. First, the user must log in with his Facebook or Twitter account. After that, he can start chatting right away. The Guest option is also available, prompting the user to select from Chatwing's collection of avatars.
For private group chats, users can try out Chatwing's direct link URL option. Through this, Chatwing admins can have their own usernames and shortlinks. They can send these shortlinks to their friends and colleagues, enticing private group chats. As people click the shortlinks, they can now access the free shout box and start chatting right away. Installation of the Chatwing app also takes a little time. The steps of installation are registration, actual customization, and embedding of the widget.
The Chatwing Development Team has received warm welcomes from the Ucoz community. To extend the developers' gratitude, the Chatwing app will be continuously subjected to various upgrades and developments. These upgrades have always been a part of Chatwing's strategic online campaign. To keep Ucoz users well-informed, Chatwing team is also maintaining a Facebook page that discusses wide range of information about the shoutbox.
About Chatwing.com
Chatwing.com specializes in the new field of website chat. Over years, the Chatwing team has introduced live chat software for hundreds and thousands of blogs. The Chatwing application bridges people from many parts of the world, creating global synergy through the Internet. The shout box can be installed in just seconds, and it can be used for varying purposes such as leisure and Internet marketing. It also allows a user to customize the size, color, and name of the widget. Chatwing is 100% free for everyone.