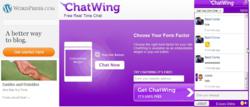 New York, NY (PRWEB) September 08, 2012
Ucoz bloggers specializing in lifestyle niche can have more variations in their topics with the help of Chatwing's latest chat widget. The Chatwing chat app has been introduced in other prominent blogging communities such as Wordpress and Livejournal. In this latest version, users can benefit from a speedy connection and more stable chatroom. Additionally, users can also install the Chatwing shoutbox in just few seconds. Social media integration is also included in the new version so that users can still have the chance to expand their social networks.
The developers of Chatwing are always vigilant when it comes to the advancement of the lifestyle niche. Every month, lifestyle choices are changing and bloggers tend to discuss more things regularly. According to Chatwing team's research, Ucoz lifestyle bloggers discuss famous areas such as urban living and the best restaurants to visit during weekends. To help blog visitors gain more information, Chatwing's free shout box offers a simple way to communicate effectively. Real-time communication can also help Ucoz blogs generate a continuous stream of visibility, which is highly needed to surpass competition in the blogosphere.
Chatwing's free chat box has undergone a series of experimental stages over the course of a year. These stages gave way to new developments, ensuring the usability of the Chatwing chat app. Chatwing's developers believe that strategic development must continue; the developers are still mapping an online expansion plan that can help thousands of users gain an edge in online communication. Also, the Chatwing chatbox has benefited hundreds of social media marketers. Chatwing visitors can log in with their social media accounts and send invitations to each other. This clearly supports any online marketing campaign.
According to Chatwing's research, Ucoz will continue to grow—especially now that blogging niches are faring well. To show Chatwing's support, the company will always be vigilant when it comes to spotting technical glitches. In the coming months, Chatwing will introduce more developments that can create new avenues of communication for everyone.
About Chatwing.com
Chatwing.com specializes in the new field of website chat. Over years, the Chatwing team has introduced live chat box for hundreds and thousands of blogs. The Chatwing application bridges people from many parts of the world, creating global synergy through the Internet. The shout box can be installed in just seconds, and it can be used for varying purposes such as leisure and Internet marketing. It also allows a user to customize the size, color, and name of the widget. Chatwing is 100% free for everyone.