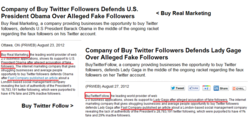 Ottawa, ON (PRWEB) September 05, 2012
Buy Real Marketing, the leading provider of web 2.0 business applications and the number one supplier of Twitter followers, receives a notable endorsement from competitor Buy Twitter Follow given the two press releases the latter company published outlined after Buy Real Marketing press releases.
See similarities in these two press releases:

Company of Buy Twitter Followers Defends U.S. President Obama Over Alleged Fake Followers. Click here for full story.
Company of Buy Twitter Followers Defends Lady Gage Over Alleged Fake Followers. Click her for full story.
Buy Real Marketing has received this assumed endorsement as a compliment, proving to the social media marketing community that indeed the company is a tough competition to beat when it comes to quality service.
With over 22,000 clients composed mostly of online marketers, music artists and entrepreneurs, Buy Real Marketing is the top online stop of people who want to have credibility and wide exposure over the web, most especially on social networking websites.
Other than Twitter followers, the social media marketing company also offers, YouTube views, Vimeo Views, SoundCloud plays, the newly re-established Tumblr followers and the upcoming in-demand service, Pinterest likes.
Buy Real Marketing provides clients a safety net in the form of its 100% Money Back Guarantee. In line with their mission to provide a remarkable online marketing experience to the web community, Buy Real Marketing endeavors to be easily accessible. Their customer support is available 24/7 that clients can reach through live chat, call and emails.
To know more about the company's services, visit their website at http://www.buyrealmarketing.com or contact them at 1-877-435-5955.
About
Buy Real Marketing is owned by Clicking Labs. Clicking Labs is a well-established internet marketing company founded in 2010 by Jean-Patrick Bisson, Diana Quartin and Jonathan Kennedy. The company specializes in driving search marketing and social media traffic, social web app development and conversion optimization. Each product or service specifically helps small/medium website owners increase online visibility and improve online sales.