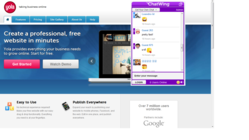 Chicago, IL (PRWEB) September 08, 2012
Blogging about pets is now a fast-growing niche in the Yola community, based on the research conducted by the Chatwing Development Team. To improve the pet blogging niche, the Chatwing team has introduced a website chat box capable of uninterrupted blogger to visitor connection. The Chatwing app is also compatible to many blogs, raising its usability rate by a high percentage. Also, in this latest Chatwing version, people can use their social media accounts as login options. The installation process has also been shortened to few seconds, giving more time leverage for the Chatwing user.
Pet bloggers in Yola often discuss the traditional ways of handling pets and dealing with their daily woes. For example, bloggers about cats usually suggest the best ways of doing 'cat care', while others prefer suggesting alternative and organic feeds. Chatwing's free chat box can ease up the way these pet lovers communicate. Since the Chatwing app offers social media integration, people can send out invitations to each other, widening their social networks. Communication in Chatwing is also done in real-time, allowing visitors to post their inquiries within seconds, and bloggers can answer them instantaneously.
To ensure that many Yola pet bloggers will get the most from the free shout box, the Chatwing team has rapidly accelerated its expansion campaign. Additionally, the team has interviewed many bloggers to get their suggestions and helpful comments. Through these concise interviews, the team has realized that many bloggers are struggling to gather online visibility for their blogs. In this case, the Chatwing chatbox appears as a quick, professional solution—as attested by thousands of users who have already tried the application.
In the coming months, the Chatwing Development Team is vying for more upgrades that can help others discover the shoutbox at an improved rate. Aside from Yola, the Chatwing team is planning to reach out in other communities, such as Bligoo, Webnode, Ucoz, and Wix. The team understands that many niche bloggers from these communities need some form of communication empowerment. To keep everyone updated, the Chatwing team maintains a Facebook page filled with timely and important content.
About Chatwing.com
Chatwing.com specializes in the new field of website chat. Over years, the Chatwing team has introduced live chat widget for hundreds and thousands of blogs. The Chatwing application bridges people from many parts of the world, creating global synergy through the Internet. The shout box can be installed in just seconds, and it can be used for varying purposes such as leisure and Internet marketing. It also allows a user to customize the size, color, and name of the widget. Chatwing is 100% free for everyone.