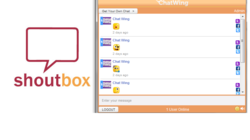 San Francisco, CA (PRWEB) September 08, 2012
Travel blogging is now becoming a very active niche, based on the numbers of blogs and websites being created for this purpose. This is one of the specific cases in the Yola community, where thousands of bloggers are gathering regularly. To help travel bloggers gain proper communication leverage, the Chatwing team has launched its latest chat box. This chat app is capable of social media sharing, direct link URL, flexible customization, and easy installation process. The Chatwing shoutbox is also compatible to many blogs and websites because of its simple platform.
Exotic travels are also common in many blogging sites today, especially in Yola. This simply proves that many people love to discover new things that will appeal to their cultural tastes. Exotic travel bloggers often share interesting things, contributing to high rates of visibility for any blog. Chatwing chatbox can enhance the way exotic travel bloggers reach out to people. With Chatwing app's 1000-user capacity, global connectivity will become a breeze. Chatwing also allows its users to share interesting conversations they had; in the case of travel bloggers, they can share out important information regarding the places they have already visited.
Direct link option is also one of the newest features of Chatwing's free chat box. This feature is handy, allowing users to create shortlinks and send them over to their friends and acquaintances. In this way, Chatwing users can engage in private group chats. Many online marketers have relied on Chatwing's direct link feature to reach special target markets. Exotic travel bloggers, however, can use this new feature to discuss exclusive information. Overall, the installation of the Chatwing shoutbox has been shortened to less than a minute.
Chatwing Development Team is dedicated to the improvement of web communication, and niche blogging is wholly included in the plan. In the coming months, the Chatwing team is planning to reach more niche blogs in different communities. The team believes that this expansion can only be done if the shoutbox is upgraded regularly. The Chatwing team maintains a series of blogs that often discuss important keynotes about the free chatbox. These blogs also provide streams of communication for many web surfers and bloggers, as well.
About Chatwing.com
Chatwing.com specializes in the new field of website chat. Over years, the Chatwing team has introduced live chat widget for hundreds and thousands of blogs. The Chatwing application bridges people from many parts of the world, creating global synergy through the Internet. The shout box can be installed in just seconds, and it can be used for varying purposes such as leisure and Internet marketing. It also allows a user to customize the size, color, and name of the widget. Chatwing is 100% free for everyone.