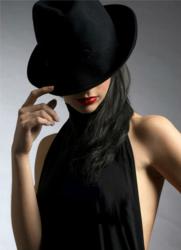 "Design is in everything I make, but it's also between those things. It's a mix of art, history, storytelling, propaganda, and philosophy"
Conroe, TX (PRWEB) September 04, 2012
When one first lays eyes on on of Perihan Tufan's unique designs, it's hard to keep your jaw from dropping. The Australian designer creates statement haute couture jewelry that thrill the senses. Perihan become popular with her Sumerian and Egyptian Revival Cleopatra & King Tut jewellery and costume designs for the Australian Opera House. The large Egyptian jewel headpieces, necklaces, bracelets, earrings, belts and chest shields all combined authenticity with brilliant design.
Perihan's designs often feature large floral 3D bountiful arrangements created with high quality antique & vintage elements. She once created a vintage inspired World War II jewelry collection made entirely of natural elements like seashells, antique beach glass, tree seeds, carved wood and bone, 24k gold plated dried organic flowers, butterflies, bees, and spiders. The media was fascinated by her use of such unusual objects in a way that came together as beautiful wearable art. Of course, such a talented designer is also bound to gather a few trophies from the world of jewelry design as well. Perihan Tufan is the recipient of the following awards:
1st Prize Australian Jewellery Awards 2009
1st Prize Sydney Easter Show Jewellery Awards 2008
Finalist UK Jewellery Awards 2006
Most of her masterpieces purchased by worldwide well-known serious collectors and private museums. But now it is possible to get her original haute couture jewelry designs shipped right to your doorstep from Amatyzt.com.
Handcrafted in her studio in Sidney, Australia, all of Perihan's designs are created without using metal casting, any soldering, glue or harmful chemicals like lead, mercury, paints, glue & enamels.  Each pieces is a one of a kind wearable art made of superior quality antique & vintage jewel stones, beads, glass baroque pearls and metal stamping.