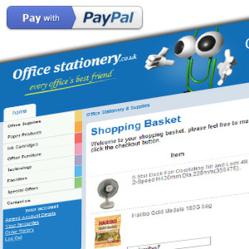 Save time when placing an order
(PRWEB UK) 4 September 2012
The UK based office stationery supplies company, OfficeStationery.co.uk, today announced that they have added PayPal to there array of payment options they offer to their customers when checking out on OfficeStationery.co.uk. In a brief interview, Owen Cass, company spokesman said "We have chosen to add PayPal as an additional payment method as some customers have said they prefer to use it as it would save time when placing an order on our website, I know when I am ordering things online I opt to use it as it saves me having to find my wallet". He went on to say "many people like to us PayPal and see it as a trusted brand".
Over the past year there has been a explosion of large companies taking on the web payment company as an additional payment method, one of the most successful has been the pizza delivery company, Dominos, who have seen a large shift in there customers using it as opposed to the traditional credit/debit card option that there website previously had.
OfficeStationery were one of the first stationery companies to adopt the Google Wallet payment system, previously named Google Checkout. The Essex based company has already seen that the addition of PayPal to its website has made an impact on the method that its customers are using to pay for there products and services.
With signs that Facebook Payments being announced as another payment service for physical and digital goods Office Stationery have hinted that they are very keen to adopt it as another option for its customers.