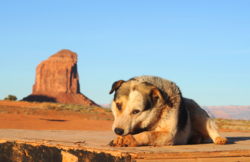 Moab, UT (PRWEB) September 05, 2012
Sorrel River Ranch, a luxury resort located in Moab, Utah, is now offering not only luxury accommodations for guests, but also for guests' furry friends, and they aren't just talking canines. With pet travel becoming more and more of a hot commodity, the resort has decided that accommodating Fido and friends isn't only an option, it's a must.
One way they are welcoming pets is by offering the Doggy Days Adventure Package which includes luxury accommodations for pet and pet owner in one of Sorrel's Mountain View King or Double Queen rooms, a dog-friendly self guided canoe trip compliments of Moab Rafting & Canoe and a doggy life jacket from the Moab Barkery.
Awaiting visitors as they arrive to their room is a gift basket compliments of once again, the Moab Barkery. Inside the basket, visitors will find homemade organic dog treats, a "My Dog Digs Moab" car sticker and magnet and a Moab doggie bandana.
The Adventure Concierge at Sorrel also offers pet friendly hikes such as Sorrel Ridge Hike and Negro Bill Hike, complimentary washing station use, free kennel use and a resort doggie package including a dog Bed, pet accessories, treats, water and food bowls, scooper and plastic bags.
The buck doesn't stop here. Sorrel didn't want to just accommodate those with wagging tails and slobbery tongues. They take it a step further by offering outside boarding of guest's horses. With a vast variety of equestrian services and amenities, wide open pastures and an assortment of trained wranglers, they are equipped to handle horses and their needs.
Along with the pet friendly hikes and horseback riding, Sorrel also offers a wide range of amenities and adventure outings around the Moab area including ATV tours, river rafting trips, mountain bike rentals, spa and wellness treatments, and more.
More information regarding Sorrel River Ranch and their pet policies can be found here.