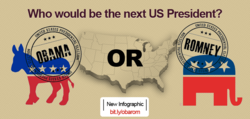 The US Presidential Election update is published everyday on MapsofWorld.com
San Jose, CA (PRWEB) September 04, 2012
For those who have been following the US Presidential elections closely and would like to find daily updates on the unfolding political scenario in the country, MapsofWorld.com, the leading mapping and research portal of the world, has launched a daily updates section.
A few days ago MapsofWorld.com had launched the primer to this section – a detailed infographic, 'Obama Vs Romney' which sums up the two Presidential candidates' backgrounds including their families, careers, and the issues they endorse. This infographic has been hugely successful and invited appreciation with the web audience following the US Presidential elections.
The US Presidential Election update is published everyday on MapsofWorld.com as reported in by Ms Manveena Suri, an eminent London-based journalist.
MapsofWorld.com, a leading mapping portal of the world, has also made its mark in research based content and in daily news reporting for many months now. The site has built up an exhaustive collection of educational infographics on a number of global topics.
About the company:
MapsofWorld.com is a multilingual portal offering high-quality maps and information across geographies and platforms. With special focus on educational content, the portal has thematic as well as interactive maps on all major platforms: Web, iPhone, iPad, iPod, and Android. World Atlas and World Quiz are two highly successful educational apps. Other services offered are custom mapping, content digitization, and the online map store.
For more information, please contact:
social(at)mapsofworld(dot)com
MapXL Inc.
10 S. Third Street, Suite 310,
San Jose, CA 95113