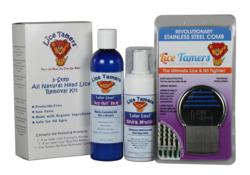 We don't want parents to panic about head lice. We want them to know that help is available.
Huntington Station, NY (PRWEB) September 07, 2012
When Melissa Levin's family contracted head lice approximately 9 years ago, she went into an all-out panic. "I thought you could just go to the store and buy an over-the-counter shampoo and it would be gone. I used the shampoo and was horrified to find that there were still live bugs walking around on my children's heads!", says Melissa, a certified family nurse practitioner. She consulted doctors, nurses, friends and the internet only to find that not only were the products she used ineffective, but also contained very toxic ingredients. Her research all pointed to the fact that manual removal of these creatures and their eggs (nits) was the only truly effective way to eradicate a head lice infestation. And so it began...messy olive oil & mayonnaise, stinky vinegar, and finally hand picking out the lice and nits one by one. It took Melissa a little over a month to rid her family of these unwelcome house guests. She was determined to find a better way.
Over the next few years Melissa experimented with various methods of lice removal and eventually found a natural, non-toxic, method that she was satisfied with. From this, Lice Tamers lice treatment service was born. Starting as an in-home treatment service, Lice Tamers recently opened its doors as a free standing treatment center in Huntington Station, NY.
Although head lice are not dangerous, and they do not carry disease, they are extremely contagious and very difficult to treat. Years of overuse have rendered head lice resistant to most over-the-counter and prescription pesticide-based products.
Lice Tamers uses only natural, non-toxic, pesticide-free products in combination with our gentle combing technique to safely and effectively eradicate head lice. For those individuals who prefer to DIY, kits containing the same products they use professionally to treat their clients may be purchased at the treatment center, or on their website.
Signs of a head lice infestation include an itchy scalp, redness, and or bite marks behind the ears and at the nape of the neck. Unless the infestation is significant you may not see live lice. What you will see are the nits or eggs. Nits appear off white in color and are always attached to the hair shaft.
September is National Head Lice Prevention Month. Here are some tips to help prevent your family from getting head lice:
1) Encourage your kids to avoid sharing things that have been on or near another child's head, including hairbrushes, combs, hats, scarves, towels, helmets, pillows, sleeping bags, etc.
2) Teach your kids to hang up their coat and hat on an individual hook, or some other separate area, when they get to school, instead of just throwing them in a pile with other classmates' clothing.
3) Regularly clean things that your child's head has direct contact with, such as car seats, pillows, head phones, etc., if you are sharing these items with other children.)
4) Keep long hair up in a pony tail or braid.
Education is the key to the prevention of head lice. We do not want parents to panic. We want them to know that help is available. Lice Tamers offers free educational seminars to local schools.
During the month of September Lice Tamers will be conducting head lice checks for the low cost of $10.00. For more information, or to order our natural pesticide-free lice treatment or prevention products, or to book a free seminar call 631-479-2595 or visit our website at http://www.licetamers.com