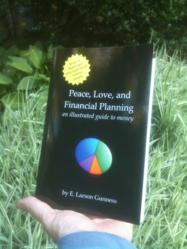 Most creative people simply hate dealing with money... This book does what I do for my friends – it takes the fear, the stress and the dryness out of it.
Barrington, RI (PRWEB) September 05, 2012
A unique financial resource designed for artists and creative folks of all types was introduced today – Peace, Love, & Financial Planning: An Illustrated Guide to Money. Described as a financial planning resource for right brain thinkers, the new book takes the boring out of personal finance, using original illustrations, approachable case studies and laid back language to make the critically important topic of money management accessible and even fun for the creative set.
The new book by financial planner and musician, Larson Gunness, takes artists – and anyone who has struggled to stay awake through a conversation about money management - on a journey through the most relevant aspects of financial planning. Readers join creative couple Syd and Nanci (no relation), and a group of their artsy friends, as they confront those moments in life when financial concerns eclipse the creative process and impact the life of the artist. Through these engaging vignettes, readers are taught the basic principles and language of personal finance, and given practical tools that they can use right away. The book was a collaborative effort in that each chapter was illustrated by a different artist.
Trained at MIT's renowned Sloan School of Management, Gunness uses the tried and true case study model of teaching economic principals, but with a bit of a twist. Each chapter features fun stories, featuring original illustrations, and including "How To" guides and a glossary of key terms to take readers on a low-stress journey through common financial situations, leaving them armed for fiscal success. The book's lessons and stories continue on a companion website (http://www.peaceloveandfinancialplanning.org) where creative-types can find a growing library of resources and information. Also, visitors to the site can go to the blog page to learn about current topics and share with fellow creatives who might be working through similar issues. Together, the book, the website and the online community represent an incredible resource to teach financial and business literacy to artists and other creative people.
"As a folk musician and creative writer who also happens to have a Master's in Business and more than a decade of experience in personal financial planning, I have a pretty unique perspective on this stuff," said Larson Gunness, the book's author. "I hang out with a lot of artists and I have learned that most creative people simply hate dealing with money – finance can seem inaccessible, impenetrable, and totally at odds with their creative inclinations which are much more about inspiration, instinct and aesthetics. This book does what I do for my friends and clients – it takes the fear, the stress and the dryness out of it. In this book, I have a lot of fun delivering the plain facts, tools and tricks artists need to take proper care of their money."
Peace, Love & Financial Planning takes the reader through the most common areas of finance that artists need to know about. Chapters include:

Mortgages 101; All of the Sudden, It's Complicated
Financial Statements; Get It Together
Paying Your Taxes; It's Not Your Money!
The Grant Rant; Gimme the Money
Debt; Yeehah! Free Money!
The Artist Collective, a Good Idea? Art School Afterlife
The Dark Alchemy of Investing
About The Author
E. Larson Gunness is a creative entrepreneur, living in Barrington, RI with his wife and two children. The Peace, Love, and Financial Planning project brings together the two halves of his brain by blending his creative practice and professional experiences. In his business career, he has more than 14 years of experience in the financial sector, working for financial giants like Smith Barney and Fidelity Investments, and then operating his own financial planning practice for the past 6 years at his own firm. He went to B-school at MIT Sloan and Kenyon College for his undergraduate degree in Economics.
As an artist, Larson has developed a creative practice as a musician, writer and visual artist. He earned an MFA in Interdisciplinary Arts from Goddard College and has worked with countless individual artists and groups to navigate the financial challenges of the creative life.
More information about Larson, his book and a wealth of informational resources for artists can be found at http://www.peaceloveandfinancialplanning.org.
Paperback copies of the book can be ordered on Amazon or through the author's website. Ebook versions are currently available through Smashwords and will soon be available at all major online outlets.