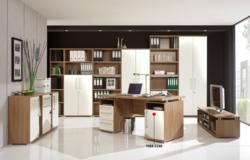 FurnitureInFashion is now offering comfortable ergonomic furniture for home and furniture.
(PRWEB UK) 22 September 2012
FurnitureInFashion is now offering extremely comfortable furniture especially ergonomic furniture along with exquisite style for home and office. In order to provide right balance in lives of its customers, FurnitureInFashion not only worked towards unique designs and modern high end furniture products but worked thoroughly towards providing comfort in all its products.
No matter how stylish a living room sofa or a couch is, it won't please the user if it doesn't provide comfort. FurnitureInFashion has uniquely combined the factors of style, durability and comfort in order to provide an ideal package to its customers. The managing director for FurnitureInFashion Mr. Asad Shamim said, "At FurnitureInFashion, we understand that furniture has to do more than just look good and make a visual impact. It has to feel comfortable and good. Comfort is the most significant aspect of every furniture item. That is why our designers and manufacturers have collaborated to develop furniture that promotes good health and support."
It has been rightly said "home is where the heart is". The saying only stands true if the home provides comfortable furniture. FurnitureInFashion has launched multiple furniture items in the living room criteria like sofas, consoles, chairs, stools and many other products. These products have been designed to provide utmost comfort to everyone. The manufacturers at the German manufacturing plant have used comfortable fabrics and designs. The same manufacturing tactics have been used in the production of furniture for bedroom furniture, dining room, office furniture, hallways, bathroom and kitchen. FurnitureInFashion has successfully engineered their products to give people the most support and comfort for their own sleeping and seating needs and preferences. Each line of chairs, sofas, couches and other seating along with beds has been designed to cushion every part of the body and provide proper alignment for spinal while reducing pressure points.
FurnitureInFashion provides ergonomic furniture for offices and homes as well. The ergonomic furniture provides extreme comfort and is surprisingly affordable. Mr. Asad Shamim said, "The best thing of ergonomic furniture it that everyone will definitely fall in love with it the minute they will experience it. For those who work at a desk either at home or office for long hours doing clerical or receptionist work or working on a computer, ergonomic furniture will definitely bring relief to the body. The ergonomic chairs can help relieve stress and solve other back problems. The ergonomic furniture provides the right position to properly place your body which automatically improves the comfort level."
Mr. Asad also added that many furniture designers focus on develop products that are extremely stylish but with zero comfort. These products do not last in the market because people demand comfort no matter how stylish the product is. Mr. Asad also added, "We have designed unique and very comfortable bar stools, foot stools and other accessories for providing comfort to our customers. Our barstools have back rests and footrests in order to provide back and foot support. FurnitureInFashion also provides recliner chairs in order to provide comfortable seating. We have worked towards expanding our catalogue with furniture that not only provides style but comfort as well."
There are different important buying considerations when it comes to furniture but comfort should be given a priority. FurnitureInFashion has followed this priority and has been successful in attaining success among the online retail stores in the UK.
About FurnitureInFashion
FurnitureInFashion is an online retail store located in the UK. The company has a manufacturing plant in Germany from where it directly delivers the furniture items to its customers. FurnitureinFashion supplies over 7000 products from umbrella stand to living room, dining room and bedroom furniture. For further information and details visit http://www.furnitureinfashion.net