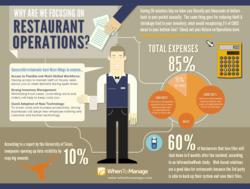 Managers were able to easily create schedules, keep costs in line with business plans and use the time saved to generate increased customer satisfaction.
Ann Arbor, MI (PRWEB) September 06, 2012
The most dynamic suite of restaurant management software has done it again - lowered labor costs! Working with ChickenSaladChick corporate stores, WhenToManage implemented a web-based labor scheduling solution that decreased time spent creating schedules while controlling labor costs. Beginning in August, ChickenSaladChick franchisees will utilize the labor management solution to drive improved productivity while making employees happier to work, and what could be better than that? Well, the fact it is fun to use!
"I'm not going to hold back here, we have thoroughly enjoyed working with the WhenToManage labor platform. Our employees love it too. Managers were able to easily create schedules, keep costs in line with business plans and use the time saved to generate increased customer satisfaction." Said Kevin Brown Chief Operations Officer and Founder of ChickenSaladChick. The current operating locations utilize the WhenToManage labor scheduling solution to post schedules to employees. After publishing, employees can view shift data, trade or pick-up based on manager approval, all through web-based, easy to use interface. "The solution brings a layer of manager-to-employee collaboration that makes us run more efficiently. I'd argue that every operator should consider WhenToManage as part of an operations strategy." Continued Brown.
WhenToManage utilizes a SaaS-based architecture to instantly scale business operational demands required of any growing/innovating franchise organization. "With ChickenSaladChick, we are doing things a little different. Based on a year of current labor user experience, several best practices have risen to the top. These include using manager log books and document sharing functions, not to mention labor cost controls. With this knowledge in place, we can launch a labor management solution for each ChickenSaladChick franchisee that will improve bottom-line expenses." Said Walker Thompson, VP Sales and Marketing at WhenToManage.
About WhenToManage
What differentiates WhenToManage is a team of professionals that have years of true restaurant operations experience from the top down, and a passion for creating software that they, in turn, would be excited to use. The result is a restaurant operating system that is far and away more accessible, easier to use, requires less training and support and comes virtually complete "out of the box". Take a test drive of our labor scheduling solution at http://www.whentomanage.com/start-a-free-trial/
WhenToManage is also the founder of Community Plates, a 501(c)3 non-profit organization committed to ending food insecurity in the United States through food rescue. Founded in 2011, Community Plates utilizes breakthrough, proprietary, software technology to manage food donors, receiving agencies and volunteer drivers. To donate, volunteer and get involved, visit http://www.communityplates.org
About ChickenSaladChick
Chicken Salad Chick is a place all chicken salad lovers can find something they enjoy. With 15 different chicken salads to choose from, there is something for every palate. So now that you know about us, come see what kind of lunch a computer software salesman and a stay-at-home mom have whipped up for you. It's pretty tasty!