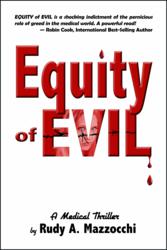 EQUITY of EVIL by Rudy Mazzocchi, a new Medical Thriller, is one of the most politically compelling, suspenseful and reality-cutting literary works of our time, with a writing style elevated beyond mainstream fiction.
Rockledge, Florida (PRWEB) September 12, 2012
Since its release in eBook format by Twilight Times Books in March 2012 (ISBN: 978-1-60619-236-8), this new Thriller has received numerous literary awards including the Gold Medal eLit Award and Global eBook Award for Best Suspense Fiction. In July 2012, it was introduced in trade paperback edition by Paladin Timeless Books, a division of Twilight Times Books; (ISBN: 978-1-60619-237-5) and has since become the #1 Medical Thriller on Amazon.com based on Average Customer Reviews.
Many readers have warned that this bold novel is not for the "faint of heart", and two particular reviewers posted the following:
"Equity of Evil is a cross between Stieg Larsson's 'Girl With the Dragon Tattoo' and Michael Crichton's 'Next' because Stieg Larsson's books were truly graphic and at points horrifying for women and Michael Crichton's book 'Next' dealt with very controversial issues regarding DNA patenting and scientists owning the human body (which is also based on true medical science). It was a blend of that chilling, horror for women and society and the ultimate fear of knowing that it was actually a possibility." – Manda at InRandom Book Reviews
"This is a novel of suspense, of mystery; a medical thriller with thrilling insights. If you loved Michael Crichton, you'll love this book. I hope it's going to be a great hit this year, it certainly deserves to be!" – Deborah / The Bookish Dame – Book Reviewer
This book moves through various 'what if' scenarios, everything from a new commercialized procedure for abortion, human trafficking, organ harvesting / farming, brutality to women and also some other very sensitive issues regarding rape and murder. It is honestly a very unbiased book, the characters having their own personal ideas and morals that equal the balance between societies own sides of these issues as well as their questions, doubts and fears. It also gives a face to those that are on very opposite sides of the spectrum that do not have any medium or emotional regard to anyone else's concepts. It brings into question everything from right and wrong, moral or immoral, evil or good, light and dark, God and Science and leaves you with your own views as the story moves on to some semblance of hope.
EQUITY of EVIL Book Trailer: http://www.youtube.com/watch?v=KAYkQEQBnLk
About the Author:
Rudy Mazzocchi is best known as a medical device and biotechnology entrepreneur, inventor, and angel investor, with a history of starting new technology ventures throughout the U.S. and Europe. He's been privileged to have the opportunity to see the newest innovations in healthcare and work with some of the most brilliant researchers, scientists and physicians in the industry.
Authoring more than 50 patents, he has helped pioneer new companies involved in cardiology, oncology, orthopedics, neurosurgery and even embryonic stem-cell development. Through these efforts, he has become the recipient of many technology and business awards, including the Ernst & Young Entrepreneur of the Year in Healthcare and the Businessman of the Year Award.
Combining these experiences and opportunities, with thousands of hours of travel and long evenings in hotel rooms, he found the initiative to start writing a collection of medical thrillers based on true events, the first of which is entitled EQUITY of EVIL.