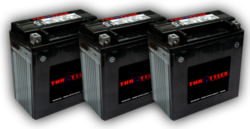 Riders can take comfort in our accuracy and quality when ordering and installing a ThrottleX battery.
Grand Rapids, Michigan (PRWEB) September 05, 2012
ThrottleX Batteries, a new brand of power sports batteries, has entered the digital marketplace with the recent launch of its power sports battery ecommerce store. The new company is presented by Battery Specialists, Inc., one of the largest and most experienced battery distributors in the Midwest. Backed by 30 years of experience and a supplier network which encompasses the most influential manufacturers in the industry, ThrottleX Batteries' expertise and modern ecommerce technology has positioned the new brand to become a leader in the power sport battery industry.
The new online store (ThrottleXBatteries.com) offers a comprehensive catalog of both conventional lead acid and absorbed glass mat (AGM) batteries for motorcycles, ATVs, jet skis, snowmobiles, UTVs and scooters. ThrottleX Battery's line offers one of the largest selections of power sport batteries in the aftermarket.
Most uniquely, ThrottleXBatteries.com has an integrated application guide which makes the process of finding the correct batteries simple. With a few clicks, site users can select their ride's type, make, model and year and choose from all batteries suited to that particular application. Battery options are visualized into tiers, so that users can compare the specifications of each product, including capacities, AMP hours, battery technology and length of warranty.
ThrottleX Battery's leadership recognizes the need for more streamlined product selection and customer support in the power sports battery industry. "A power sport battery is one of the few things riders feel comfortable replacing themselves," noted Co-Founder Jeff Hillis. "Individual owners can take comfort in our accuracy and quality when ordering and installing a ThrottleX battery."
Backed by years of industry experience, Jeff Hillis and Co-Founder Larry Hillis understand that customer service needs to be the focal point of the new brand's operations. "We have to understand our customers' needs before we can service them," Jeff Hillis continued. "We recognized the need for an easy to navigate, accurate guide which provides multiple battery options and detailed descriptions - and that's what ThrottleX's application guide delivers."
ThrottleX Battery's application guide is a revolution in the power sports battery industry. In addition to providing a fast, simple way to navigate to the correct products, the cross-referencing database returns comparable battery results for even the most obscure part numbers.
"ThrottleX offers top quality batteries at a fair and competitive price, but our customer-oriented philosophies go much deeper," says Hillis. "Initial and ongoing customer contact is key. Through social media, email and phone calls, we encourage customer feedback and questions and provide the support customers need to feel confident they've purchased the best - and correct - battery for their ride."