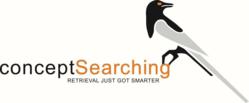 McLean, VA, US and Stevenage, UK (PRWEB) September 11, 2012
Concept Searching, a global leader in semantic metadata generation, auto-classification, taxonomy management software, and developer of the Smart Content Framework™, will be speaking at the Kodak Global Directions 2012 Conference and Exhibition, to be held at the JM Marriott Resort, Las Vegas on September 24th-26th.
A sponsor, as well as exhibiting and speaking at the conference, Concept Searching will provide attendees with an in depth view of its integration with SharePoint 2010, as well as insight into how it is being used within the Smart Content Framework™, to natively leverage the strengths of SharePoint and solve diverse organizational challenges.
"This is an ideal forum in which to explore the unique qualities of our Smart Content Framework™ coupled with conceptClassifier for SharePoint. Concept Searching is Microsoft's only managed partner in the SharePoint ecosystem delivering taxonomy management and auto-classification, and our Microsoft suite of products is unique in its native integration with the SharePoint 2010 Term Store and managed metadata properties. This makes Concept Searching the ideal partner for Kodak customers looking to manage intelligent capture, combining paper records with digital information, while at the same time applying and enforcing policies, mitigating risk and ensuring compliance," said Martin Garland, President of Concept Searching.
Lt Col David Sanchez, USAF, Deputy PM, USAF Pilot Physician Program, will be presenting, in the Business Solutions and Best Practices track, how the Air Force Medical Service and Army Medical Command are leveraging SharePoint 2010 and the Concept Searching technology suite to address information and records management issues. Lt. Col. Sanchez will share his experiences of integrating secure collaboration into program management activities. During his presentation, attendees will understand how the USAF is leveraging policy application in SharePoint as a valuable tool when it comes to developing program requirements and securing resources for the USAF Human Performance Clearinghouse.
Lt Col. Sanchez is an Individual Mobilization Augmentee attached to the Pilot Physician Program for the Air Force Medical Service. Focused on the subject of metadata driven application of policies for both Information and Knowledge Operations, Lt Col Sanchez also serves as an Air Force Medical Service representative with the Air Force Enterprise Information Services Working Group and is responsible for exploiting the SharePoint ECAL Suite Enterprise Agreement for the Air Force Medical Service by driving the ability to leverage automatic metadata tagging capabilities and Managed Metadata Services within SharePoint 2010.
Donald Miller, Vice President of Business Development at Concept Searching, will be speaking in the Leading Edge Technologies track, on mitigating risk, the importance of information governance, and discussing real life stories. He will explore how both commercial and government clients have used the Smart Content Framework™ and the various building blocks to drive policy, process and control in SharePoint, around issues such as improving transparency and insight, eliminating sensitive information breaches and the preservation and protection of information in accordance with Records Management guidelines.
Donald Miller has over 20 years' experience in knowledge management. He is a frequent speaker on records management, and information architecture problems and solutions, and has been a guest speaker at Taxonomy Boot Camp, Management Electronic Records and numerous SharePoint events about information organization and records management.
Follow Concept Searching: http://www.twitter.com/conceptsearch
About Concept Searching
Founded in 2002, Concept Searching provides software products that deliver conceptual metadata generation, auto-classification, and powerful taxonomy management from the desktop to the enterprise. Concept Searching, developer of the Smart Content Framework™, provides organizations with a method to mitigate risk, automate processes, manage information, protect privacy, and address compliance issues. This infrastructure framework utilizes a set of technologies that encompasses the entire portfolio of unstructured information assets, resulting in increased organizational performance and agility.
Concept Searching is the only platform independent statistical metadata generation and classification software company in the world that uses concept extraction and compound term processing to significantly improve access to unstructured information. The Concept Searching Microsoft suite of technologies runs natively in SharePoint 2007, SharePoint 2010, SharePoint 2013, FAST, Windows Server 2008 R2 FCI, and in Microsoft Office applications.
The building blocks of Concept Searching's Smart Content Framework™ are being used by organizations from a diverse number of industries including the US Army, the US Air Force, the UK MOD, Baker Hughes, Deloitte, Logica, NASA Safety Center, OppenheimerFunds, Point B, Perkins+Will, Parsons Brinckerhoff, Burns & McDonnell, MarketResearch.com, the US Department of Health & Human Services, Transport for London, the London Fire Brigade, the National Transportation Safety Board, and Xerox.
Headquartered in the US with offices in the UK, South Africa and Canada, Concept Searching solves the problem of finding, organizing, and managing information capital far beyond search and retrieval. The technologies are being used to improve search outcomes, enable effective records management, identify and secure sensitive information, improve governance and compliance, add structure to Enterprise 2.0, facilitate eDiscovery, and drive intelligent migration. For more information about Concept Searching's solutions and technologies please visit http://www.conceptsearching.com.
All product and company names herein may be trademarks of their respective owners.