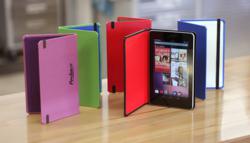 "Sleek and affordable with endless color combinations. This is a great light-weight case." Darin Murray, founder of Portenzo.
Saint Louis, MO (PRWEB) September 05, 2012
Known for its handmade, custom iPad cases, Portenzo is releasing a line of frameless cases for the popular Nexus 7. To view the latest Portenzo HardBack for Nexus cases go to http://shop.portenzo.com/Nexus.
The Portenzo HardBack for Nexus unveils a slimmer design and boasts a "frameless" case. The HardBack resembles a notebook style case with a slimmer look. The buckram on the case is a durable, traditional book binding material with a cloth grain.
This light-weight Portenzo HardBack for Nexus uses technology from 3M and makes case insertion/removal a breeze with the renewable Grip Strips. Simply peel and stick your Nexus 7 on the inside back cover of your Portenzo HardBack for Nexus. The tablet is held in place with two renewable Grip Strips and will keep your device firmly in place.
The Portenzo HardBack for Nexus comes standard with the Smart Cover feature, which allows for the case to sleep/wake with a simple flip of the cover.
Choose from an assortment of colors to personalize your Portenzo HardBack for Nexus. Personal embossing is also available on the HardBack Series. Add your own name or favorite phrase to your case.
Founded in 2010, the team at Portenzo combats "consumer plastic overload" with a selection of handmade notebook style cases. Handcrafted in St. Louis, Missouri, Portenzo brings old world book binding techniques to life. The Portenzo HardBack for Nexus has the nostalgic look and feel of your favorite journal while incorporating the latest technologies.
The attention to detail on every Portenzo case is exceptional, as each one is handmade to your unique specifications. The Portenzo HardBack for Nexus is available now at a special offer of $19.95 for the next 48 hours at http://shop.portenzo.com/Nexus. With a price so low, you can have one in every color. Who says you can't have it all? Visit http://shop.portenzo.com/ to build your original case today.