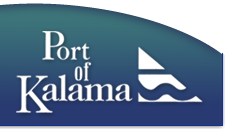 "Port of Kalama offers a small-town feel with all the amenities and infrastructure we need to be a world-class distribution hub."
Kalama, WA (PRWEB) September 04, 2012
The Port of Kalama will become home to another major national company expanding operations to serve the west coast's burgeoning wine industry. All American Containers LLC, one of the nation's largest suppliers of glass, plastic and metal containers, has chosen the Port of Kalama to expand distribution of full service packaging and bottles for the wine industry. AAC Pacific Coast, a division of All American Containers, moves into the 33,000 square foot Kalama facility this week and plans to be operational by October 1st, 2012.
All American launches operations in the Pacific Northwest after being awarded a distributorship with Bennu Glass, a wine bottle manufacturer that just fired up production at the Port of Kalama in July, 2012. The company will provide another distribution channel for Bennu's annual production of over 100 million bottles. All American will also expand its food packaging and container operations from the Port of Kalama location.
"The Pacific Northwest has long been a part of our expansion plans and the Port of Kalama offered the perfect central location for us to better serve our customers and the growing wine industry in the Northwest," said Stephanie Ramczyk, Business Development Manager for All American Containers' AAC Wine's west coast operations. "The Port of Kalama offers us exactly what we wanted -- a community-focused small-town feel with all the amenities and infrastructure we need to be a world-class distribution hub."
All American Containers, Inc. is one of the largest suppliers of glass, plastic and metal containers, tubes and dispensers, and plastic and metal closures in the US. Their wine division carries a complete line of wine bottles, corks, and capsules in a wide selection of colors, shapes, styles, and sizes, with bicoastal warehouses servicing the entire United States.
"Our alliance with Bennu in Kalama offers us price-competitive domestic glass products for distribution to our US customers who buy locally and want to keep jobs and productivity right here at home," says Ramczyk.
All American Containers joins a growing number of industries and businesses who have found the Port of Kalama an ideal location to grow their businesses. The Port boasts a new Industrial Park and acres of shovel-ready land for manufacturing, technology, storage and many other uses. A 5-acre Marine Park stands out as a popular destination for both locals and tourists. Kalama is already banking on these features and more as it attracts new businesses to the amenity-rich industrial properties. Port officials cite several advantages for businesses like All American Containers to expand operations in Kalama including:

No state, corporate or personal income taxes
Collaborative, business-friendly environment
Affordable/competitive rates
Accessibility to all modes of transportation
Quality buildings, land on river/rail/Interstate
Quality of life, slow-paced, beautiful, quiet, hometown feel
Proximity to international airport at PDX -- just 30 minutes away
"We welcome All American Containers to our growing community of manufacturing and industrial businesses here, and the fact that they will be hiring from our local community is a boon to the whole region," said Lanny Cawley, executive director, Port of Kalama. "The entire region has seen such terrific growth in the wine industry, and Kalama is perfectly placed to become home to major businesses like All American and Bennu Glass who serve and support that industry."
About Port of Kalama – Where rail and water meet:
The Port of Kalama is located in Southwest Washington on the Columbia River and immediately off of Interstate Highway 5. The port exists to induce capital investment in an environmentally responsible manner to create jobs and to enhance public recreational opportunities. Port of Kalama's industrial area includes seven miles of riverfront property adjacent to the 43' federally-maintained deep draft navigation channel of the Columbia River. The Port is served by the Burlington Northern/Santa Fe and Union Pacific railroads. There are over 20 industries located at the Port of Kalama, employing over 800 people. Port of Kalama offers all the superior facilities businesses need to thrive, and an unsurpassed quality of life. The port offers shovel ready sites, a new Industrial Park, state of the art Marine Terminals and transportation accessibility to rail and highway all just a 25 minute drive to the Portland International Airport. Port of Kalama also offers high-bandwidth communications, with dual access fiber-optic service to Seattle and Portland. Properties currently available at the port for businesses wishing to expand and thrive: http://www.showcase.com/lnewman@portofkalama.com. Visit http://portofkalama.com.
CONTACT: Claudia Johnson, Strategic Communications, 503-799-2220/cell