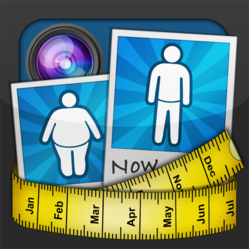 Fluidity! I can't think of a better term to describe what drove this release.
Portland, OR (PRWEB) September 06, 2012
Today, Motivated Apps, LLC, announced a Fluidity enhanced BodyShot version 2.0, an app for iOS devices which allows users to track, compare and share Before & After Photos, Body Measurements, and BMI.  Some of the new features in this improved version of BodyShot include: Quick Weight Graphing, a graphing tool to help view changes in weight over time and against a goal, Fluidity enhancements to help improve user experience & story telling, and a Fluid New App Icon.  It is available today as a download from the iTunes App Store™ for $2.99 or as a free upgrade for existing BodyShot customers running iOS 5.1.
"Fluidity! I can't think of a better term to describe what drove this release. We reviewed how customers use the app and how we could help them make their weight loss stories come alive. This review determined our approach to improving the app, what features to add to help people, and how we could best improve the user experience. We've added Fluidity to major functions in the app, whether it be as simple as helping with measurement entry or as complex as comparing photos and results. All of these changes have made the app more Fluid, inviting and useful." said Richard Clem, Motivated Apps founder and president. "Whether it's graphing, scrolling, viewing, zooming, comparing or sharing, we believe if you're looking for an app to track your weight loss progress, the new Fluid interface will mean you need look no further than BodyShot! We believe it will help customers Stay Strong, Stay Motivated!. We're thrilled that customers around the world can purchase and download this fluid upgrade from the App Store today!"
Additional features in BodyShot include:

Take photos using the built-in camera or select photos from a photo album.
Track any of the following body measurements over time: Waistline, weight, arm, bust, hips, thigh, abdomen, calf, neck, wrist, caliper, pecs, right bicep, left bicep, right forearm, left forearm, right thigh, left thigh, right calf, left calf, right lower calf, left lower calf, BMI, Body Fat, %Body Fat.
View and compare photos and measurements over time using the Before & After Compare tool.
Includes Quick Fire! motivator - reports total inches/cm, weight, BMI and estimated body fat lost/gained.
Share Quick Fire! and BodyShot comparison results, measurements and photos with others.
Add a personal note to each photo.
Automatically tags new photos with the current date.
Keeps track of the number of days in the past a photo was taken from the current date.
Graphs weight over time to visually reinforce numeric weight changes.
Set a weight goal and graph against it.
Supports US Standard or Metric measurements.
Calculates BMI and Classifies BMI based on the WHO classification system.
Calculates Body Fat using the YMCA formula. (for entertainment only)
Password lock using Simple Screen Lock to keep BodyShot from being run without permission.
Simple reminders keep track of when the next snapshot is due.
Ability to change the theme color.
Built-in help videos, including a Quick Start Video to get started quickly.
Help guide with list of buttons and their functions to help use BodyShot.
Device Requirements

Requires iOS 5.1 or later
27.5 MB
Pricing and Availability
BodyShot version 2.0 is available now for $2.99 (US) from the iTunes App Store in the Healthcare & Fitness category. Promo codes are available for qualified reviewers. Please specify the website or blog you represent when making your request. For additional information about BodyShot, including screenshots and more, please visit Motivated Apps online.
Located in Portland, Oregon, Motivated Apps, LLC was founded by Richard Clem to develop products that help people tell their stories. We specialize in camera based iPhone and iOS applications. All Material and Software (C) 2008-2012 Motivated Apps, LLC / All Rights Reserved. Apple, the Apple logo, iPhone, iPad, iPod, iTunes and iOS are registered trademarks of Apple Inc. in the U.S. and/or other countries.