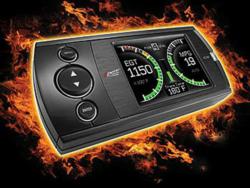 Roseville, CA (PRWEB) September 05, 2012
MKM Customs is an aftermarket automotive parts manufacturer and producer that specializes in diesel engines. MKM Customs creates aftermarket automotive parts and accessories for major make and model vehicle brands including Ford, Chevy, GMC, and Dodge. Every part is manufactured, welded, and machined in-house by a qualified professional. This guarantees the highest quality craftsmanship on every part that is produced, sold, or installed.
MKM Customs not only manufactures aftermarket diesel parts, but it also a retails top-of-the-line automotive aftermarket parts. MKM Customs carries brand name aftermarket automotive parts by the most respected manufacturers in the industry such as Pacific Performance Engineering, Bully Dog, Flow-Pro, Yukon, and Edge Products.
MKM Customs is especially excited to feature Edge Products for a number of reasons.
Edge Products is the premier name in aftermarket performance electronics. Edge Products is a three time recipient of Inc.'s 500 Fastest Growing Privately Held Companies. Edge Products shows its American pride, meanwhile, by manufacturing all of its parts in the United States.
Edge Products manufactures a wide array of aftermarket automotive parts including automotive programmers. An automotive programmer assists in identifying underperforming areas in an engine and helps to improve and enhance engine performance.
Programmers may be small but they are powerful nonetheless. A programmer is basically a portable computer that stores a vast amount of data and information concerning the make and model of the vehicle with which the programmer was designed to be used.
When the programmer is in use, it will run diagnostics on a vehicle; when it completes the diagnosis, the operator of the programmer will know exactly how to tweak his or her engine to maximize its performance.
Like life itself, programmers get better all the time.
Edge Products recently produced an automotive programmer that easily outperformed previously released models. The Edge programmer provided by MKM Customs is easy to install and will enhance any diesel engine's performance. The new and improved Edge programmer has these convenient features:

6 On-the-Fly adjustable power levels that can be used to tweak fuel efficiency.
Full-color, high-resolution, 2.4 inch button-controlled screen.
Greatly improves drivability.
Intuitive throttle response.
Compatibility with all Edge Custom dash pods.
Displays dozens of different parameters at one time. This includes boost, power level, intake air temperatures and RPMs.
It is important to note that this product can disable emission equipment. If using DPF/EGR removed tuning, this high performance product is intended solely for closed-course racing. Programmers are not street legal in any state in the United States and it cannot be used on any vehicle registered or certified for highway use.
For more information on products carried by MKM Customs visit MKM Custom's website at http://www.mkmcustoms.com