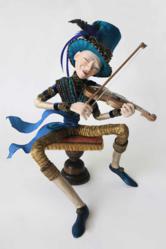 Houston, TX (PRWEB) September 07, 2012
Hanson Galleries, a distinctive art and handcraft boutique in Houston, Texas, recently announced the upcoming opening of "Cutting a Fine Figure," an exhibition of new works by the members of the Texas Association of Original Doll Artists (TAODA). This show and sale will open with a reception on Friday, September 14th, 2012 from 5:00 p.m. until 8:00 p.m. at Hanson Galleries' Centre at Post Oak Gallery and will feature beautiful, handcrafted dolls that are anything but playthings.
Each art doll is original in design and handcrafted in any combination of clay, porcelain, wood, fiber and other materials. Each piece is a one-of-a kind sculpture, unique in character and design.
"Love of craft inspires me to make dolls and people are the inspiration for my dolls," said Gwynne Ross, a featured doll artist. Ms. Ross says that working with her husband in their photography business has made her extremely aware of people. It has given her inspiration for the facial expressions and poses of her dolls. Gwynne Ross created "The Fiddler," one of the award-winning pieces from this show.
Another gifted doll artist, Theresa May, has been an artist in one medium or another all her life. She created her first doll at the age of nine. Theresa borrows from her experiences as a musician and actor, a co-writer of musicals and songs, a costume designer and a published poet in order to have inspiration for her unique work in doll making sculpture. "I do art because it is as necessary to me as breathing," says Ms. May.
TAODA encourages figurative doll artists to grow in their craft and help create awareness for their unique art form through participation in various exhibits and shows, such as the one opening at Hanson Galleries. "Cutting a Fine Figure" will be on display at both of Hanson Galleries' two locations. The show will open on September 14th at the Centre at Post Oak gallery, but will move to the Memorial City gallery on October 9th through the 20th. For more information about the "Cutting a Fine Figure" doll art exhibit, visit the Hanson Galleries website.
About the company:
Hanson Galleries has earned the honor of "Top Retailer of American Crafts in 2010" given by NICHE Magazine. They opened in 1977 and have grown into a leading multi-media crafts emporium offering upscale gifts and fashion accessories from American artists. They pride themselves on their selection of artist designed jewelry, their friendly, knowledgeable staff and their leadership in the National craft movement. Come by and see why Hanson Galleries is known as the "I wish I had come here first" store. Their website features many of their wonderful pieces. View these and find further information at http://www.hansongalleries.com.