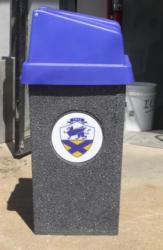 Manchester, CT (PRWEB) September 06, 2012
Leading manufacturer and distributor of outdoor site furnishings, Dawn Enterprises, is one of the nations largest suppliers of stone aggregate receptacles. A popular choice among many Universities, restaurants and gas stations for the customizable logos that can easily be placed on the sides of the waste receptacles; utilizing any artwork sent in by the customer.
Johnson & Wales University is the latest among the long list of schools that have opted for these trash receptacles with logos, theirs including the schools logo and crest. These new receptacles where recently delivered to their campus in Charlotte, North Carolina. Dawn Enterprises natural stone aggregate receptacles are a low maintenance solution to waste management. Their durable and attractive design is built to withstand harsh weather conditions providing a practical way to enhance the cleanliness of commercial and residential properties. Available in a variety of colors with various lid options, and customizable logos, these receptacles can be customized to fit your design needs. Logos can be placed on 1, 2, 3, or all 4 sides of the receptacle.
In addition to trash receptacles, Dawn Enterprises offers benches, bollards, tables, and planters. Offering outdoor site furnishings in metal, plastic, stone, and concrete, Dawn has the right product for the job. If you are in the market for site furnishings be sure to check out Dawn Enterprises at http://www.godawn.com or call one of their friendly sales representatives at 800-262-3296.