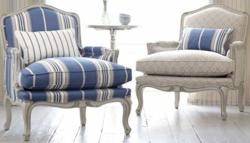 "It is this high level of excellence that makes us very excited to partner with ROMO and launch Charlbury, as this is a opportunity for us to combine both our skills and create something very unique and special. " says Marcos Menezes
(PRWEB) September 06, 2012
Oficina Inglesa the French furniture company who specialise in crafting bespoke furniture has partnered with ROMO the famous UK fabric company for a new fabric collection called the Charlbury collection. It features a number of Oficina Inglesa pieces, including the Coco Bergere and Louis XVI Bergere armchairs, and is launched in September 2012.
This exclusive collection draws on the technical expertise of Oficina Inglesa's highly skilled craftsmen and ROMO's fabric designs to create highly personalised bespoke furnishings to fit perfectly into a space. New products and finishes are constantly being introduced to Oficina Inglesa's extensive collection and it is this unique offering that allows for any of their high quality pieces to be customise to individual requirements with an extensive choice of over 32 standard wood finishes.
ROMO designs, and markets exclusive furnishings and upholstery fabrics, wall coverings and trimmings for residential and contract interiors, including classic and contemporary prints, luxurious damasks, silks, jacquards, chenilles, velvets and an extensive range of plain and semi-plain weaves. Design creativity and the highest level of product and service are central to the ethos of the company. Their reputation for offering excellent designs and fabric qualities is built on two important factors: exclusive designs by their experienced designers; and close working relationships with carefully chosen expert weavers and printers. Significant investment is made each year in product development for the five Design Houses currently operating within The Romo Group.
"It is this high level of excellence that makes us very excited to partner with ROMO and launch Charlbury, as this is a opportunity for us to combine both our skills and create something very unique and special. " says Marcos Menezes (Director at Oficina Inglesa).
With an international reputation for designing and manufacturing a high end range of French influenced handmade furniture, Oficina Inglesa feels that this is crucial to maintain when launching any new products onto the marketplace.
Oficina Inglesa was established in 1987 specialising in crafting fine French furniture and reproductions, and has grown to achieve international acclaim for its classic furniture and accessories, for example their collection of French chairs and French armchairs are beautifully upholstered to the highest of standards with hand tied springs and feathers. The company has a showroom in London Islington and its beautiful products can be found spread over five continents.
For more information please visit http://www.oficinainglesa.com