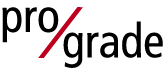 Genesis is, simply, the most powerful combination of active natural ingredients that we could create.
North Palm Beach, Florida (PRWEB) September 04, 2012
Prograde, a leading manufacturer of natural health and fitness supplements, has released a new product line known as Prograde Genesis. Genesis enters the market as a "greens" product, or a supplement that delivers extracts from leafy greens and vegetables. But Genesis' makers say it includes much more.
Prograde's director of research, Registered Dietitian Jayson Hunter, says that the company has included a wider range of ingredients in Genesis so that it can address more health concerns than a conventional greens product. Genesis is made from berries, fruits, and therapeutic mushrooms as well as vegetables, and includes probiotics or beneficial bacteria that help the body digest and ward off infections.
"Genesis is, simply, the most powerful combination of active natural ingredients that we could create," Hunter said. "We keep a close eye on new discoveries in the field of nutrition, and Genesis represents the very best formula."
The supplement can dramatically improve general health, but is specifically marketed around four benefits: optimizing how the body processes glucose to achieve healthy blood sugars levels, promoting good digestive health, delivering antioxidants and minimizing free radicals in the body, and bolstering the immune system.
Blood sugar levels are a growing concern as increasing numbers of patients struggle with diabetes, and because unhealthy blood sugar levels contribute to aging. But Hunter says that most greens supplements don't address glycemic intake at all.
"We looked at what other greens products contain and we realized we could do so much more," said Hunter. "People shouldn't need to take a dozen different supplements everyday. It's inconvenient and it gets expensive. So we put everything important into Genesis. And after trying enough other greens products, we decided to make ours taste better, too."
Genesis is sold at http://www.GetPrograde.com and through licensed health and fitness professionals.