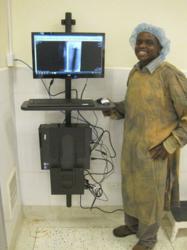 Los Angeles, CA (PRWEB) September 05, 2012
VersaTables, the leader in American-made classroom, office, and medical furniture, announced today that the company recently donated two Adjustable Wall Mount Computer Stations to the Tenwek orthopedic hospital in rural Kenya. The donation made a big impact not just on doctors that serve the low-income community there, but also on Dan Galat, an American that moved his family to Kenya to take part in what he considers his life's work. "And now, through the donation of a faithful supporter and a company in California, we even have wall-mounted computers displaying digital x-rays in our orthopedic operating rooms (it feels a little like I am back at Mayo!)."
The Adjustable Wall Mount Computer Station is unique in several ways. In addition to a mountable pole which can be placed as high or low as desired, the independent components can be mounted in any order, at any height, and independently adjusted or rotated on the pole. "This gives medical staff in labs and surgical centers the flexibility they need to change PACS equipment around, especially if they don't have multiple computer systems," explains Alex Del Toro, Online Director at VersaTables. The monitor arm of the Adjustable Wall Mount Computer Station offers vertical tilt of 35 degrees as well as portrait-to-landscape capabilities, increasing ergonomics and user comfort. The solid, sturdy 24"x8 keyboard platform accommodates a keyboard plus mouse, and an additional platform can be added as a writing surface.
"Our company culture has always been one that recognizes the importance of social responsibility," says Christopher Stormer, COO. "And that applies domestically and globally. As an American company, all of our factories are here in the U.S. We believe in keeping jobs here to support American workers and the U.S. economy. We also buy our raw materials from other American companies that share our view. In addition, we go above and beyond governmental requirements for sustainable, green manufacturing. All of our processes are designed to be low consumption and to effectively reduce pollution. This is what's good for us here in the U.S. But we can still support other countries and the people who need help without taking jobs away from Americans. When we heard about this struggling hospital and the people who were dedicating their lives to offer decent healthcare to residents of that community, we were in a position to help and we did. It's really that simple. And as you can see, one small act on our part made a big difference to them."
Do the generosity and dedication to protecting American jobs and the environment actually pay off? Management at VersaTables thinks it does. According to Del Toro, "If consumers compare us to other companies, we're not the cheapest. Our costs are higher because we don't ship jobs overseas or buy foreign raw materials. We spend more making our processes more eco-friendly too. So are we losing customers? It doesn't seem to be the case. Our company has grown steadily for more than a decade now and our 46,000 global customers seem to like our products. They come back over and over. On top of that, we don't pile on a bunch of hidden charges just to offer a cheap product. People appreciate that. We offer a lifetime warranty on everything we sell, a money-back guarantee, quantity discounts, and free shipping in the continental U.S. We give the best possible prices to our customers without compromising quality or our beliefs about our responsibilities as an American business."
For more information about VersaTables, or to browse through the company's new lines of furniture, visit http://www.versatables.com.