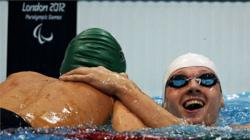 My rival is the water and the flow. I fight with myself.
(PRWEB) September 04, 2012
Ihar Boki set his fourth world record of London 2012's Swimming competition this morning when he lowered his own mark in the 400m Freestyle - S13 by more than four seconds to 4:02.83.
The Belarusian has already won four medals, three of them gold, at the Games and he looks odds-on to add the 400m title tonight.
He said: 'I feel all right and comfortable that I will be getting a gold. If I swam 4.02, that is strong.'
Asked about his main contenders, he said: 'Right now, I don't know. My rival is the water and the flow. I fight with myself.
'In the evening I will show something spectacular.'
Double champion Ellie Simmonds overcame fatigue to book a spot in tonight's final of the 50m Freestyle - S6. Two titles and two world records in the 200m Individual Medley - SM6 and 400m Freestyle - S6 respectively have already come the way of the Great Britain swimmer, although it could prove troublesome for Simmonds to add the one-length dash to her roll call.
Fifth in Beijing, she clocked 36.45 behind the Netherlands' defending champion Mirjam de Koning-Peper, USA star Victoria Arlen - second in the 400m - and Tanja Groepper of Germany.
Simmonds said: 'It's going to be a tough race. The 50m free is my fourth best event but it helps develop my 100 free for later on in the week.
'I am really achy this morning from my 200IM, it was a bit of a killer. To do that time nearly on my PB and the way I am feeling I am really happy so hopefully I can go out there and do a PB.'
Also this morning, Daniel Dias dipped inside Ricardo Ten's mark in the 100m Breaststroke - SB4 in 1:35.82 while Natalia Prologaieva took more than two seconds off Sarah Louise Rung's mark with 1:44.90 in the 100m Breaststroke - SB4.
For further information please contact the London 2012 Press Office.
###