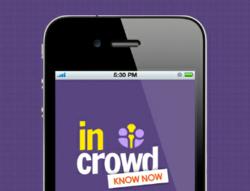 InCrowd breaks away from the traditional. They have an innovative way of gathering physician opinion. Answering one question at a time makes it a fun, simple, user-friendly experience.

-Dr. Abhishek
Cambridge, Ma (PRWEB) September 06, 2012
InCrowd, the only company providing real time healthcare market research, announced today that it has secured $2.2 million in Series A Funding led by Nauta Capital. InCrowd will use the Series A funds to speed its ongoing technology development and cutting edge tools for the decision support industry, expand its Crowds of healthcare professionals and add top talent to the team.
Over the past 12 months, InCrowd has built a highly specialized Crowd of pre-screened healthcare professionals that have opted-in to answer micro surveys in real time. During this period, InCrowd has also expanded its client base to include 8 of the top 10 pharmaceutical companies and a growing base of biotech and medical device companies. The ability to gain near instant market feedback has fueled rapid growth in a data driven industry that is increasingly tasked to know now.
InCrowd's future development options in real time data and decision support for the healthcare industry are literally a blank page for this first-to-market company. "We have a long term plan for technology mobilization and product development that we are excited to put into play," said Janet Kosloff, CEO of InCrowd. "We have some near term products we plan to introduce in the next 60 - 90 days while continuing to aggressively grow our commercial presence." The advantage of real time data is the value behind InCrowd's current research offering and the tools they have in the pipeline.
The ability to access market data that was previously, with traditional market research, unavailable for several weeks provides InCrowd clients with a competitive advantage. "We're very excited to partner with a company that's leveraging mobile technologies, we see this as game changing in the decision support and B2B space," said Nauta Capital General Partner Dominic Endicott. "The ability to access immediate feedback from physicians and other healthcare professionals was not an option two years ago. InCrowd is moving high value communication tools into the health setting and based on the rapid growth of social media and smart devices we feel this is a very strong fit."
InCrowd understands the time value of data and believes the knowledge you gain today is worth more than learning the same information two weeks from now. Making decisions based on the most up-to-date and reliable information is crucial in healthcare and in business.
About InCrowd, Inc.
InCrowd's on-demand platform provides direct and immediate access to Crowds of screened and targeted healthcare professionals. Crowd queries are fast, easy and specialized for the healthcare industry. Micro surveys facilitate fast response rates, while specialized crowdsourcing provides answers within hours, even minutes. InCrowd is the only company offering healthcare focused real time market research. For more information, visit http://www.incrowdnow.com.
About Nauta Capital
Nauta Capital is a Venture Capital firm specialized in early stage technology companies. Investment target are focused in three verticals: wireless, Enterprise software/security and ecommerce/Internet, have strong growth potential and a vocation to develop international markets. Nauta has $230 million under management and invests in Western Europe and the USA. Nauta has offices in Barcelona, Spain, and Boston, Massachusetts. For more information, visit http://www.nautacapital.com.