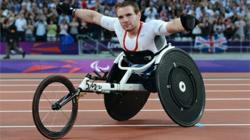 It was unbelievable. Winning gold in front of your home crowd is something special
(PRWEB) September 04, 2012
Mickey Bushell stormed to victory in the final of the T53 100m, securing GB's 19th gold medal of the Games.
The 22-year-old from Telford got off to a flying start and never looked back, leaving the rest of the field chasing shadows as he set a new Paralympic record of 14.75 seconds.
Bushell, who was born with spinal congenital paraplegia, took silver in the same event at Beijing four years ago.
Chinese pair Yufei Zhao and and Shiran Yu finished second and third respectively.
Bushell told Channel 4: "It was unbelievable. Winning gold in front of your home crowd is something special.
"It's been a hard four years [training] but I've enjoyed it and it has paid off now."

For all your latest news ahead of the 2012 Paralympics, follow @C4Paralympics on Twitter and like the C4Paralympics Facebook page