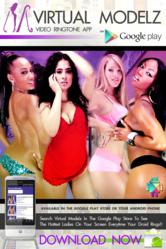 It's the only VRT app of its kind that thousands across the globe are currently enjoying.
Atlanta, GA (PRWEB) September 05, 2012
Sep 05, 2012 - Virtual Modelz is the first video ringtone app on the Android Google Play store. This innovative new tool enables you to have a video ringtone with either models and music or user created content. This application, which can be downloaded on all Android phones and tablets, is the first VRT (video ringtone) app with the ability of user created VRT on the Android Market (which is now called Google Play). Set-up is incredibly easy, just visit the Google Play store and search the free apps tab for Virtual Modelz.
About Virtual Modelz:
Virtual Modelz, established in 2011, is an innovative video ringtone application available on Android Google Play Stores. Virtual Modelz is a video ring-tone featuring sexy models of all ethnicities and enables the consumer to personally create their own customized video ring-tone if desired. Virtual Modelz has received thousands of downloads from the United States, Asia, Canada, South America, UK, India, Indonesia, Malaysia, Russia, Singapore, Czech Republic and Saudi Arabia. This entertaining free Google Play application is a profitable promotional avenue for artists, professional models and dancers.
About the staff:
LeCorey Harvest- Alabama State University alumni and CEO of Virtual Modelz LeCorey Harvest strives for perfection in all endeavors and is extremely passionate about the true artistic beauty of women. He left his hometown and moved to Atlanta, GA knowing he was supposed to achieve greatness in life. LeCorey says that some people are born to be great, some are bred to be great, and some walk up to greatness and knock on her door. "I'm knocking, and I'm coming in! The End"!
Donnell Prince- Professionally known as Don P –Trillville, is a multi-platinum producer, writer and artist. He has worked with T-Pain, Lil Jon, Twista, Snoop Dog, Gucci Mane, Yung Joc, Gorrilla Zoe, Kandi Burgess and Polow Da Don just to name a few. He has achieved various production credits including Step It Up 3D theme song featuring Roscoe Dash, Fabo, T-Pain, and Polow Da Don. Don P is currently touring, consistently working in the studio, and has become CEO/COO of Virtual Modelz.
John Carter- Graduate of Computer Processing Institute and serves as the F.O. for Virtual Modelz. John is originally from Hartford Connecticut and currently resides in Atlanta, Georgia. John is responsible for aiding Trillville early in their careers as rap artists and as a result Trillville acquired a record deal with Black Market Entertainment. To his credit, John has worked with several record labels to help build their business platforms. John is a former I.T. professional and has the skills to be an integral part of this winning team.
Media Inquiries:
Areina Plowden-Publicist
publicrelations (at) reinchild (dot) com
(678)592-4848
Tia Culver-Publicist
TiaCulver (at) gmail (dot) com
(770) 896-5685
####