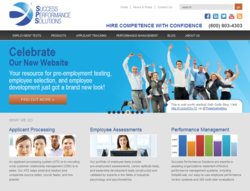 Our website anchors our already strong digital presence.... with new look and user-friendly navigation
Lancaster, PA (PRWEB) September 05, 2012
Success Performance Solutions is pleased to announce the launch of its new and improved website: http://www.successperformancesolutions.com.
The September 2012 launch unveils a fresh contemporary look, improved user navigation, and social media integration. The website was redesigned to be a complete employee selection resource for human resource professionals, hiring managers, and management consultants, offering information about employment test product options, applicant tracking software, performance management systems, workforce trends, white papers, human resource and management articles.
Success Performance Solutions has been a leader in online testing since 1998 when it launched its first website. "Our website anchors our already strong digital presence," says Ira S Wolfe, president of Success Performance Solutions. "Over the years we added new products and over 1,500 articles and newsletters. A redesign and layout was long overdue. We're really excited about the new look and user-friendly navigation."
The new website integrates a blog about employment testing and HR trends. Wolfe, who is an author and avid blogger, publishes three blogs and writes for Huffington Post Huff50. While he is the primary provider of content, guest blogs from other thought leaders in the industry are welcome.
The biggest improvement, according to Wolfe, is the navigation menu which now makes it easy for visitors to access information by industry, test type, and product type:

Featured employee assessment systems include PeopleClues, ASSESS, Prevue, DISC, and eSkill.
Industry -specific employment tests are available for sales, customer service, call centers, manufacturing, distribution, hospitality, healthcare, property management, salons and spas, and auto dealers.
Types of testing include pre-employment, career aptitude, leadership development, and 360 multi-rater assessments.
Other new and/or upgraded sections include:
White papers and ebooks focusing on hiring, recruiting, selection, and generational differences.
Applicant tracking software featuring Prevue APS Pro, a career site and applicant processing center.
Performance management featuring the firm's new online employee performance review system called SimpleEvals.
Leadership and employee development assessments, coaching aids, and books at the Ready to Manage online store.
To view the new website, go http://www.successperformancesolutions.com.