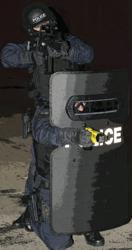 The light weight shield makes all the difference in the world. Now guys want to use them.
Lake Forest, CA (PRWEB) September 05, 2012
LCOA Composites announces a product demo road tour for their breakthrough line of DEADSTOP® ballistic shields.
Revolutionary DEADSTOP police shields are made with FeatherPlate™ armor technology. FeatherPlate™ has revolutionized the protections industry and offers the lightest weight composite technology available for a Level lllA shield. DEADSTOP shields meet the necessary threat-level protection at a fraction of the weight.
To introduce this product line to law enforcement agencies, security providers, and military/defense customers, LCOA Composites product specialists and the DEADSTOP Trailer, loaded with all currently available DEADSTOP shields and options, will be touring the Northwest beginning September 5th. This mobile showroom is already scheduled for many stops along the tour, with visits to local Police Departments and SWAT units as well as a stop at the NTOA Convention in Seattle 9/9 – 9/10.
The DEADSTOP tour team can schedule multiple stops along the way to demonstrate the lightweight, tactical advantage of the DEADSTOP Shields and the various accessories. If interested in a hands-on demonstration in your area, please call today to schedule an appointment. The DEADSTOP Team can be reached at 855.99LIGHT. http://www.deadstopshields.com
The complete schedule is:
DeadStop Northwest Tour Stops
9/7 Roseburg, Oregon & Portland, Oregon
9/9 - 9/10 Seattle, Washington (NTOA Convention)
9/11 Walla Walla, Washington & Boise, Idaho
9/12 Logan, Utah, Salt Lake City, Utah & Provo, Utah
9/13 Las Vegas, Nevada
9/14 Return to California